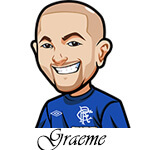 Follow @SBTSportBetting


[Get Exclusive Tips on our Patreon, Ad-Free
]
Written by Graeme
Welcome to the first race of the F1 season!
Qualifying today, as well as the practises, was an absolute blast. Nice that the Alonso dream was scuppered so early eh? All these possibilities based on practise and even Q1, and then Red Bull just flex their muscle, and boom it's a 1-2 for them.
I'm pretty ticked off at myself as Max was 1.72 odds last night and I was going to post here to say to bet on him. But I was out at the pub and when I came home I was shattered and went to bed. Forgot all about it.
He's now 1.40 odds so um yeah. Totally unbettable ha.
Let's see what we have for this one. Generally my max bet is 1u, and then I will do 0.5u or 0.25u depending on confidence.
Also I know we got a lot of new signups and many of you may not be too familiar with F1. The variance can be crazy. It's not just about the cars. First of course there can be one crash that changes it all. But then you have so many other factors to consider. Hell just go and look at numerous Ferrari incidents last year to see what can make a difference.
This 1u Bet only at Patreon – sign up for a free trial. We don't charge until May 1st so you can cancel before then and not pay a penny!
0.5u on Esteban Ocon Top 6 Finish at 7.50 / Top 10 Finish at 1.72
Two bets on Ocon here for a combined 1u.
Ocon is generally a slow starter and likes to up his pace as the weekend goes on. Gasly showed in P2 what the Alpine has, and Ocon did a fantastic job in qualifying.
Yeah he has a few ahead of him. The Mercedes car though man I don't think they were sandbagging – there seems to be some issues. Ferrari also are running into issues.
Honestly my first thought here was Stroll to make the Top 6 at 2.75, but that dude with his wrists? It's a right concern and I don't know if he will be able to last the full race.
So taking a shot on Ocon here.
0.5u on over 17.5 Classified Drivers at 2.60 odds
Interesting the sportsbooks feel there will be at least 3 retirements. There really didn't seem to be too many issues with the cars over the weekend, It's F1, anything can happen, but I think there is solid value on this one.
Long Shot Bets:
Each week, I am going to post two long shot bets at high odds. One of them will always be fastest lap. I mentioned fastest lap during the week. Well after spending my entire Thursday studying last seasons data – I've decided my buddy is right in regard to how difficult it is compared to prior years. The only real thing I noticed was weather can be a factor, but then it is a complete crapshoot. I might occasionally do fastest lap but I don't feel as confident in it.
You can bet what you want on these. I'll personally bet 0.25u.
Both are only available at Patreon – sign up for a free trial. We don't charge until May 1st so you can cancel before then and not pay a penny!
Follow @SBTSportBetting