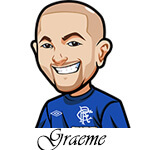 Follow @SBTSportBetting


[Get Exclusive Tips on our Patreon, Ad-Free
]
As predicted, red flag in race dropped in odds after yesterday.
We took it at 2.50 odds for 0.25u and it's now dropped to 2.10. Nice to see that value we're getting.
Alright so it's Miami. Not the most exciting track but it's gotta be better than last weeks. Last weeks was like watching NASCAR for the majority of the race!
Crushed it last week which was nice. Won the 6.00 bet on Alphatauri first constructor retirement. Won the over 16.5 classified drivers.
And then there was my new hero, Perez. Depending on what you bet due to my typo, you either won him to win the sprint at 4.50, the race at 6.50, or both the sprint and race at 4.50 each. Not too shabby.
As stated last week prior to the race, I will only factor in the race bet in my stats as I felt that was the fairest thing to do. Absolute bonus that Checo won that thanks to Max's early pit.
Puts us at +2.39u profit for the season so far, which is a good amount considering I've had 19 bets, and 13 of them have been 0.25u. I'm proceeding cautiously at the moment.
Annoyingly, one bet I liked yesterday was over 1.5 safety cars. It was at about 2.00 odds. But it has now dropped to 1.83 and not liking it anymore. I'll try and do quick posts at times like I did with the red flag bet on Friday as it doesn't take much action to see odds change.
Anyway as a reminder, we have the 0.25u red flag bet. Here's what else I am going for this race.
Verstappen to win the race
His pace this weekend was miles ahead of everyone else. If it wasn't for that clusterfuck yesterday, he would have easily got pole.
Now the real question is will he aim to pass Checo or how will that go down? Barring any crashes, you know he's going to work his way through the field. I mean he has to get by Ocon, Russell and KMag so could be crashy crashy time.
Balancing it all, I think 0.25u on Max to win at 2.75 is fine.
Leclerc Top 6 Finish = No
Leclerc has been having troubles all weekend. I've been looking for a bet that will involve the possibility of him retiring, both based on his driving and the car having to go to the repair shop so much this weekend.
I feel like this is the safer one out of all the potential bets. We know the Ferrari is a beast, and Mercedes concerned me this weekend, but there is still the competition out there and I think the Merc race pace will be better. Then you know Ferrari do Ferrari things.
0.5u bet, 2.75 odds.
Two more bets exclusive to our Patreon. Sign up today, don't pay until end of the month. So if you ain't happy, you can cancel and not pay a penny.
Follow @SBTSportBetting