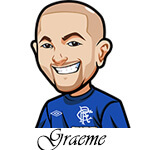 This week in golf we have the Farmers Insurance Open and the Omega Dubai Desert Classic, as the two main tournaments on the PGA and European Tour.
We came close to a cash in the Abu Dhabi with Paul Waring for a top 10 finish. The 75/1 pick to win came very close but ended up one stroke out of the top 10 unfortunately.
Another frustrating one last week too as much like the week before and with Kevin Kisner; I said the price on Fitzpatrick at 18/1 was just too lowe for me. he ended up tied for 2nd.
Sungjae Im we had to finish in the Top 5 in the Amex Championship but he ended up tied for 10th. If he had performed as well in the final two rounds as he did in the first two that would have been a cash but that's a tricky tournament so it is what it is.
Let's hop straight into this weeks tournament.
Farmers Insurance Open Betting Tips:
Bit if a tricky one here. It's on the North and South Courses at Torrey Pines and there is a big difference in them. The North Course also received a re-design a couple of years back. Then the South Course saw a renovation too. Just look at that 10th hole for example. Big changes.
Going to be approaching this one cautiously. For the record Rory pops up in ALLLLL the metrics I run for this one as the one to bet. However he hasn't played in awhile and the odds are short.
I'm seeing a lot of people on Xander Schauffele this week. He suits this course well and its his home town and he's been the bridesmaid, never the bride in recent tournaments but his performances here are poor and I can't back him. Would be nice to see him win though.
Gary Woodland: 25/1. 1/4u to win & E/W Coming in on solid form with two top 10 outings in his last two tournaments. Solid performances here over the years although he hasn't managed to get past 9th. However he probably should have won in 2014 before an epic collapse. His driving should be big here and with the chances this is more of a US Open course. Who won the US Open? Yep.
Ryan Palmer: 55/1. 1/4u to win & E/W. Nice price for Palmer. It was even better earlier in the week at 70/1. Maybe I'll have to try and get these out sooner actually ha as this is happening quite often now. I used to do Tuesdays so we'll see. Might be better for my schedule anyway. A 2nd place 2 years ago, a 13th place last year. His driving will get him in contention at most holes. He seems to really like this course. He's coming off playing well in bad weather which is impressive.
Lanto Griffin: 60/1. 1/4u to win & E/W . Strong performance two years ago here in 12th. Solid performance at the Sony Open. While I don't know his travel schedule, I'm hoping he came to the States early so jetlag isn't an issue. Pops up in the metrics.
Also 1/8u plays on Bud Cauley and Billy Horschel to win & E/W. Both pop up on the metrics for me and both have a few additional minor qualifiers. Coupled with the odds of 80/1 and 66/1 respectively, I feel like I've got to back them.
There's also something nice about having a full unit bet on a tournament ha. Helps my OCD.
Support the work I do and register an account and place these bets at . Thanks!
Dubai Classic 2020 Betting Tips:
Everyone and their mothe rseems to be on Brandon Stone this week. Not seeing it myself but at 100/1, well worth chipping 1/8u on him to win & E/W.
Sergio Garcia: 20/1. 1/2u to win & E/W. At 20/1 this is a great price in my opinion. He looked good last week overall, and he came 3rd here last year and won it 2 years prior. The big question I had last week was the club change but it didn't seem to affect things there.
Paul Waring:50/1. 1/4u to win & E/W He was so close last week to getting us a cash and I see no reason not to go right back to him. He showed he is playing good golf, and he came 3rd here last year. Prior course form is poor but he is worth a bet.
I couldn't decide between the other two so we'll split 1/8 on them to round it up to 1u.
They are Erik Van Rooyen at 35/1 and Bernd Wiesberger at 25/1. Both to win & E/W.
Support the work I do and register an account and place these bets at . Thanks!