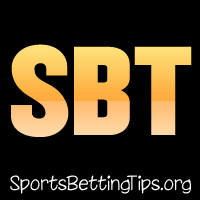 Follow @SBTSportBetting
Well I was able to pick both winning teams yesterday, but unfortunately neither of them was able to cover the 7.5 point spread.
The Raptors were up by 17 points going into the 4th quarter and completely blew it. Hell they almost lost the freaking game. The Miami Heat rallied hard in that one and it was an absolutely brutal way to the end the game for the Raptors.
Just listening to the post game interviews you can tell they were all pissed about that.
We had the Bucks -7.5 and they won by 5. They were up by 7 and Middleton missed a free throw with less than a minute left that would have made it 8. The Hawks kept it close. Yet another team who blew it in the 4th quarter although this one wasn't as bad as the Raps.
Oh well – two very unlucky games but looking at it I'm still happy with those picks. Just bad luck and variance there and it seemed those were the best sides to be on.
And if I'm sad I just go back and watch this clip over and over;
Much busier night tonight let's get to it.
Pistons vs Hawks Betting Tips:
Everything was going great since the Pistons picked up Griffin but things have dropped off a fair bit. They lost to the Lakers, Hawks and then Pelicans. They now have the chance for revenge against the Hawks.
I like it.
Those last 3 games were very disappointing and I have to wonder if over confidence had set in, then losing to a team like the Hawks hurt them but the Pistons are going up against the Hawks tonight and the Hawks are the worst road team in the NBA.
Atlanta shot great against Detroit last time out but I can't see it happening this time.
I think the Pistons will be motivated and will play this game from start to finish hard.
Pistons -8.5
Magic vs Hornets Betting Tips:
Magic go into this one on a 2 game losing streak and the Hornets have a 4 game losing streak.
System likes Magic +5.5 tonight. We know the Magic have what it takes – they had that 3 game burst where they beat the Heat, Cavs and Hawks. The Bucks are always a hard team to take down and they lost there then had that close one against the Bulls.
I like the performances of Orlando lately. They fought hard to come back against the Bulls when they could have let their heads go down. With the all star break coming up we often see big performances from teams and I like the Magic to be right up there battling all the way.
Magic +5.5
Lakers vs Pelicans Betting Tips:
The Lakers have been on a great run as of late and I like them to put pressure on the Pelicans here and keep things going.
I did like the Pelicans performance against the Pistons. The new "big three" are looking good but I'm not ready to hang my hat on them after just one big game.
It honestly wouldn't surprise me to see the Lakers get a win here. They're a solid road team and are playing well.
Lakers +5
Follow @SBTSportBetting