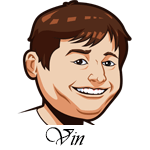 Follow @SBTSportBetting
The Boston Celtics are one of the hottest teams in the NBA right now and have their sights set on the top seed in the Eastern Conference with Kevin Love being injured and the Cavaliers looking vulnerable. Boston is just 2.5 games behind Cleveland now and is always a threat to make a trade.
Still, as the team stands now they are pretty dangerous. Isaiah Thomas has been destroying teams in the fourth quarter, scoring 20 in the quarter more time than anyone else in the league. He's also scored 20 or more in 40 straight games. If he does that again tonight he will break John Havlicek's Celtics record. He should be getting MVP consideration this year, but there are so many great candidates (Russell Westbrook) that it's hard to even imagine him getting votes. Of course, wins are a lot more valuable than MVP votes and I think Thomas will be much happier finishing as a top seed in the East.
The Celtics look to keep the good times alive tonight against the Chicago Bulls, but they are on a back-to-back and their third in four nights. This will be quite the test.
Notable Upcoming Bets:
NBA Betting Tips:
The other team in the East that is on fire right now is the Washington Wizards. They are 14-2 over their last sixteen games and are just rolling over teams right now. Coach Scott Brooks has done a great job and Bradley Beal is playing some of the best basketball of his career right now. This team is for real and tonight they should continue the good times against the Indiana Pacers. The Pacers are on a back-to-back and are not anywhere near the Wizards level. This should be an easy one for Washington -2.5 heading into the break.
As for Boston, this is the last game before the All-Star break. While three games in four nights is usually a death sentence for teams this is different circumstances. They should be able to finish strong here knowing that there is a long rest ahead of them. The Bulls have Dwayne Wade listed as questionable and it won't matter if he does play. Boston PK is going to roll here and Thomas will set the Havlicek record.
NCAA Basketball Tips:
A great Big Ten match-up tonight could be the game of the night as the Wisconsin Badgers visit the Michigan Wolverines. These two teams always play each other close, but the Badgers' defense has been on another level this year. They've only lost four games all season and are running a +13.4 point differential. Bronson Koenig should be back for tonight's game and the Badgers +1 should roll.
Markelle Fultz is considered one of the top prospects in the draft this year, but his Washington team has not been great this year. They are just 9-16 and Fultz is listed as questionable tonight and Malik Dime, another prospect, is out with a suspension for slapping fans. It's been a bad run for what should've been a good team and tonight shouldn't be much better. Arizona State +2 should roll over the Huskies tonight.
Follow @SBTSportBetting