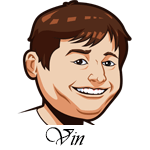 Follow @SBTSportBetting
With the NBA not back until Thursday thanks to the All-Star break I thought it would be a good time to take a look at the 2017 NBA MVP race. This is probably one of the best races we have seen in the past several years. This should be a close race and it will definitely come down to the wire. Let's take a look at the candidates:
James Harden EVEN: Since 1985 there hasn't been a single MVP that didn't finish in the top 3 of their conference for the playoffs. This is the case for Harden, but also the case against Wesbtrook despite his crazy stats. James Harden's stats have been very impressive as well and he has led a Rockets resurgence this year who should be the third seed in the West.
Russell Westbrook +160: As of this writing, he's averaging a triple double. That hasn't happened since 1962 when Oscar Robertson did it. That is amazing, amazing numbers and if anyone can break the "top 3 seed" rule, it's Westbrook this season.
LeBron James +550: The best player in the NBA on the top seed in the Eastern Conference. He's having a strong statistical season as he's playing the most minutes per game in the league right now. The problem with him is that he lacks the video game numbers that Harden and Westbrook are putting up.
Isaiah Thomas +1000: Definitely a dark horse candidate, but he's averaging 30 points per game and is the best player on a Celtics team that is going to challenge the Cavaliers for the best record in the East. This is definitely a dark horse pick, but it might be my favorite.
Kawhi Leonard +1000: In a normal year, he'd be right in the thick of things. The Spurs are great, he's having the best year of his career and he might be the best defensive player in the world. Doesn't matter. He isn't flashy enough and the Spurs are underrated this year.
Kevin Durant +2500: Not going to happen.
Notable Upcoming Bets:
NBA MVP Betting Tips:
The best pick here is probably Wesbtrook at +160. If he finishes with a triple double, which I believe he will, it will be very hard to take this award away from him. Even if he's on a seventh seed.
NCAA Basketball Betting Tips:
Northwestern has been a fun story this year. Chris Collins is a good coach who is building a strong program there, but they are still new to all this and learning as they go. Tonight is a good learning experience as they face Illinois who beat them at home earlier this season. They are a better team than them and this is the kind of game that they need to win. Learn from the last one, come back and grab this one. That's what a good team does and I think Northwestern -1.5 will do it tonight.
A similar team is Marquette who has beaten the #1 seed this season and then struggled against other teams. If they want to make the tournament, they need to get things done tonight against St. John's. That is a team that they need to beat if they want to go in the dance. The Golden Eagles are at home tonight and this should be a roll. Marquette -9.
Follow @SBTSportBetting