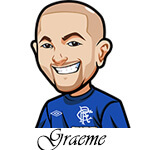 Follow @SBTSportBetting
Welcome to the free sports betting tips for February 22nd, 2017.
I expect there'll be a lot of people with eyes on this weeks tips due to the golf betting tips we do.
If you weren't paying attention to last weeks golf tips then it sucks to be you – because you missed out on a couple of MASSIVE winners.
First of all I correctly predicted Dustin Johnson to win the Genesis Open. He did that with absolute ease and it was a stellar performance. That was a tricky field and it was impressive just how good DJ was during it.
However the one I am most proud of is my Brett Rumford to win the Super 6 pick. That was a risky tournament so I only advised quarter unit bets but at 50/1 boy did it pay off.
Here's the betting slips showing off the winnings:


Great week in the golf and hopefully we can follow that up with more.
Let's get to it:
Honda Classic Betting Picks:
I'm going with 4 different picks for this one. All of them are a quarter unit to win & E/W.
The first one is Graeme McDowell. He's playing slightly below average this season thus far. He can make the cut but that's about it. However it's good to see that solid enough play and I think he can do something here at a course where he usually performs well.
I'm also taking Russell Knox. He looked good at the beginning of the season when he performed well at the Tournament of Champions and the Sony Open. he was disappointing at the Phoenix Open but I don't think a cold streak is on the cards and I like him to turn it around here.
I'm also taking the favourite Adam Scott. There's a reason he's the favourite and I think 12/1 is a nice enough price.
Finally for the Honda Classic I'll go with Justin Thomas. I'm not fully confidence but I did like how he played at the Genesis Open – specifically on the final round – and I think he can bring that fine form in here.
Bet all these at:
Notable Upcoming Bets:
Honda LPGA Thailand Betting Picks:
She's only played the one event this year and didn't do too solid so we'll only bet a quarter unit on Amy Yang at 18/1. Yang has a good history on this course and we'll bet her to win and E/W. She was steady enough at the Pure Silk Bahamas although nothing special.
We'll also take Jessica Korda at 50/1 to win & E/W for a quarter unit. Jessica can be very erratic at times so it can be frustrating – she could be right at the top of the leaderboard after the first day or two here and then shoot a +6. We'll hope that she can keep her form on point and that she's coming in strong after the last outing she had.
Joburg Open Betting Picks:
Real quick for this one – quarter unit & each way bets on George Coetzee, Anthony Wall, Justin Walters and Thomas Aiken.
Follow @SBTSportBetting