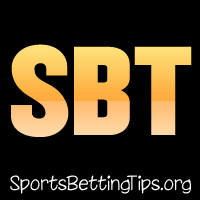 Follow @SBTSportBetting


[Get Exclusive Tips on our Patreon, Ad-Free
]
A 1-1 record last night.
We got the easy win with the Wolves against the Knicks last night. New York is just not a real NBA team right now and they are probably going to win like two games the rest of the season. The Wolves were without Karl-Anthony Towns, but were still up nine points at the half. This was a true team effort as six players scored in double figures, led by Derrick Rose with 20 while Jeff Teague had 12 points and 11 assists.
Unfortunately, we had a loss with the Magic over the Bulls. I just don't get this one. The key stat I saw here was the Bulls were 18/19 on free throws while the Magic were 13/24. You have to make your free throws and in a one-point game, that was the difference. Otto Porter was a nice addition for Chicago and he finished with a team best +10 point differential.
A huge slate of games tonight highlighted by the Rockets and Warriors in prime time on national television. As has so often been the case with these games, James Harden is listed as questionable here. The NBA has made moves to ensure big match-ups like this will be on TV and things like this always seem to happen. Hilarious.
Indiana Pacers vs. Washington Wizards Betting Tips:
Both of these teams are on a back-to-back with travel so I am not really worried about them from either side. We can just look at this game like who is the better team and that is very clearly the Pacers.
Washington has played much better since John Wall which doesn't say much about his max contract, but this is still not a great team. The trade of Otto Porter and loss of Markieff Morris show that this team is not really interested in the whole winning team. Bradley Beal is amazing, but I like Indiana's defense to take care of him (or the rest of the team) easily.
The Pacers have been underrated all season and are somehow more underrated now that Victor Oladipo is out of the season. Bojan Bogdanovic has done a nice job of picking up the slack and the Wesley Matthews addition has been a good fit. I just think the Pacers are a much better team with much clearer motivations heading into this one and I think they win easily.
https://www.Bovada.lvBet Pacers -1
Detroit Pistons vs. Miami Heat Betting Tips:
I don't love the Pistons, but they have been playing good basketball of late with a 6-2 record over their past eight games. This team had no shooting and then they got Wayne Ellington from the Heat for nothing which has really helped turn things around.
That move and others showed, to me, that the Heat weren't really interested in chasing the eighth seed, something the Pistons are very much interested in. That difference in motivations plays big here.
The one red flag I had was Detroit's 10-17 road record, but Miami's 11-16 home record kind of wipes that one out. Throw in Miami's injuries to Goran Dragic and James Johnson, and I'm all in on the Pistons here.
https://www.Bovada.lvBet Pistons +3.5
Follow @SBTSportBetting