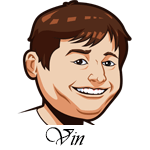 A 1-1 record last night.
We picked the Mavericks yesterday and about four hours after I posted the tips, they announced that they were resting Luka Doncic and Kristaps Porzingis. The Mavs played strong without them and nearly got the win, but the Hawks prevailed. Hopefully some of you caught the injury report before placing your bets, but I had mine in before it.
I'd like to say that this was a rare occurrence, but going forward we really need to stay vigilant on checking injury reports. We are definitely getting into rest season so pay close attention to back-to-backs.
The Bucks were our other pick and they got the win against Philly at home as the Sixers continued their poor road record. Giannis Antetokounpo was dominant here with 31 points, 17 rebounds, and 8 assists. The Embiid/Simmons duo was very quiet for Philly.
Sunday means some earlier start times, but we have a couple of games that we like for this evening. Let's take a look.
Notable Upcoming Bets:
Indiana Pacers at Toronto Raptors Betting Tips:
This is the fourth and final meeting between these two teams with the Raptors holding a 2-1 lead on the season series. These two have played some close games recently, but this is really a match-up of two teams going in opposite directions. The Raptors are 16-1 over their past seventeen games and are pretty well rested at home here tonight.
While the Pacers are 3-7 over their past ten and have a straight up road record of 4-8 as an underdog. They had lost six straight before beating the Bucks without Giannis and the Knicks on the road. I am not totally enthused by those results and think they could continue to struggle here.
We know Toronto will not hesitate to play their starters heavy minutes if a win is in reach and I think they will get it done tonight.
New Orleans Pelicans at Golden State Warriors:
The Pelicans have really been playing well of late with a 7-3 record over their past ten games. Many people were surprised to see them stand pat at the trade deadline, but this core they have of Zion Williamson, Brandon Ingram, and Jrue Holiday can play with anyone and they are very dangerous. This team puts up huge points every time out and Zion has been 100% as advertised.
They face the Warriors here who will be once again without Draymond Green, Stephen Curry, and Klay Thompson. There really isn't a lot to say about this team when those guys aren't going to be playing other than that they are bad. They give up a lot of points, which helps the Pelicans, and they are last in Offensive Rating which helps everybody.
The Pelicans should be able to play the type of game they like to play here, and run all over the court. There is no one on Golden State right now with Draymond not playing that has a chance against Zion so expect some highlights here.