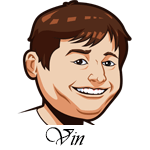 Follow @SBTSportBetting


[Get Exclusive Tips on our Patreon, Ad-Free
]
The most interesting story in the NBA this season (and in some ways, the only story) is the Golden State Warriors quest for 73 wins and the NBA record. Last night, the Miami Heat played them as hard as anyone has all season and probably should've won, but Steph Curry had some magic in him as he hit an incredibly deep three-pointer to take the lead with 47 seconds left and the Warriors would hold on. Tonight, they play the Orlando Magic in Orlando. Back-to-backs on the road are tough for any team and this will be their fifth game in seven days. A brutal stretch. Is Orlando good enough to beat them? On a normal night there's no chance, but we all said the same thing about Milwaukee who beat them in similar circumstances. This could be a good one tonight.
We're keeping an eye on the Western Conference playoff race and tonight holds a key match-up in that one as the Portland Trailblazers meet the Houston Rockets. The Blazers are on fire as of late with Damian Lillard scoring 30 points or more in five straight games and they've won their past six games. Houston recently fell out of the 8th seed and currently sits a half game back of the Jazz, who play the Spurs tonight. A win by Houston would really help to keep them afloat, but I'm not sure the Blazers will allow that. I personally think Portland is gunning for that five seed and a match-up with the Clippers.
Thursday night is always a great night for basketball and tonight looks to be no different. Let's take a look at what we have.
NBA Betting Tips:
Portland is one of the hottest teams in the NBA that is really meshing together in a great way right now and Houston is pretty much the opposite of all that. They have some great players, but they just don't seem to work well together. Houston's greatest strength is the superstar play of James Harden, but Lillard has been matching him as of late. With this game taking place in Portland, there really isn't a doubt in mind who will come out with this one. It's just a matter of how much, Portland -4 seems about right to me.
Another key match-up in the Western Conference playoff race is the Spurs taking on the Utah Jazz. The Spurs are pretty well locked into the second seed, but the Jazz are fighting for that eighth seed. They have a young team that really wants to make a jump into the playoffs this year, even if means getting waxed by the Warriors. The Spurs -3.5 are simply on another level though and I can't imagine a scenario where the Jazz pull this one out. They've got a long way to go to get to the Spurs level.
Since switching up their starting lineup and moving Greg Monroe and Michael Carter-Williams to the bench, the Bucks have been hot. They've won four of their past five and had the top defensive efficiency rating over that stretch. They play the Celtics in Boston tonight and the C's are a huge favorite. Milwaukee always plays better at home, but this new lineup has really allowed the Middleton-Giannis-Jabari lineup to flourish and tonight will be a good test to see if it is for real. Bucks +8 is a worthy bet.
I could imagine a scenario where Orlando plays the Warriors tough tonight, but that scenario isn't coming true tonight. Maybe if they had already played Golden State on the road and knew what they were getting into. Maybe if they had an elite scorer who could have a great game. Maybe if Golden State had played an overtime game last night. Tonight? It's all about the Warriors -8.
Follow @SBTSportBetting