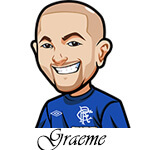 Follow @SBTSportBetting
It's Friday and I hope everyone is ready for a good weekend of sports.
As you can no doubt see if you're a regular reader here we've made some changes to the website. Now you can see who is writing each article. As of right now there are three of us- myself(Graeme), Vin and Scott.
Vin generally handles all of the fantasy sports content, as well as Tuesday and Thursday tips. Scott handles Mondays tips, as well as horse racing and the Lawro audit. I then handle pretty much everything else.
Sadly this means now I am no longer hiding behind a general author accoun that I can't take credit for Vins great NBA tips anymore!
Let's get to todays betting tips:
NHL Picks for February 26th, 2016:
Bruins vs Hurricanes: The Hurricanes are at home where they have slowly became a force to be reckoned with. The Bruins go on the road again and they've struggled there as of late. To their credit the Bruins are coming off a huge win over the Penguins however the Hurricanes know they can get a wild card spot and this is a big game for them. They're going to be motivated here and quick to wipe off the embarassment of their loss against the Leafs last night. Hurricanes to win.
Wild vs Capitals: The Minnesota Wild were brought back down to earth after their 6-1 win over Chicago and that 4 game winning streak. We saw a similar type of game against Philly that they were playing before the coaching change. Can only hope that the Washington Capitals are awake now after their loss to Montreal. The complacency was creeping in there but I like them to bounce back strong. Wild can still play well and keep games close though so I'll be on Capitals in regulation.
Lightning vs Devils: Tampa are a hot team at the moment. Whether that's due to Yzerman saying he won't trade Stamkos or not I don't know – but Stamkos is running hot at the moment. I've go to go with Tampa and their current form and pick Lightning to win.
Oilers vs Ducks: The Anaheim Ducks are heavily favoured in this one as they should be. They have been on an absolute tear lately and defeated the Oilers 5-3 in Edmonton. They met up with a feisty Sabres team last time they were at home but produced a solid defensive performance to keep them at bay. Now they host Edmonton who just played last night. The Oilers didn't do too badly last night but despite the offense they have, they are really struggling to score. I like the Ducks offense to have a much bigger night and will take Ducks -1.5.
Sabres vs Sharks: Interesting odds here as it shows that history between two teams doesn't factor in to the sportsbooks thinking. The Sabres have had excellent results against the Sharks but you can get them at 3.20 odds at the moment. In hockey there really isn't that much of a gap in skill level between teams as you'd think, and with a price like that we've got to take the Sabres even with their injury issues.
Follow @SBTSportBetting