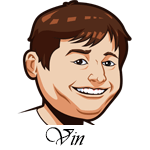 Follow @SBTSportBetting
A 1-1 record last night.
We took the Pacers last night and they started out strong and faded in the second half. The deal with working Victor Oladipo back into the rotation hasn't been easy, but once he's closer to full strength I think this team is going to be really dangerous. I was thinking so much about Luka Doncic being out that I forgot about Kristaps Porzingis. He made us pay for that as he finished with 38 points and 12 rebounds.
Thankfully, we had the Grizzlies. Andre Iguodala may not want to play for them, but they are a really fun team. They got a really nice 96-82 win over the Pistons last night with Jonas Valanciunas have a big 26 point and 17 rebound game. We are nearing the trade deadline and Iguodala has been mentioned a ton, but how about anyone and everyone on the Pistons? They scored ten points in the third quarter last night! Forget trading, how about contraction? That's embarrassing.
For those of you who are curious, the NBA record for least amount of points scored in a quarter is two points. It's happened twice, Dallas Mavericks in 1997 and the Golden State Warriors in 2004. I almost want to seek those out to watch out of morbid curiosity.
The clock is ticking on the NBA trade deadline with no movement yet. Clint Capela and Luke Kennard have dominated the rumors thus far, but not much else. This is the calm before the storm though as I think we'll see a lot of action.
Notable Upcoming Bets:
Milwaukee Bucks at New Orleans Pelicans Betting Tips:
This is going to be fun. Zion Williamson, the next big thing in the NBA, taking on Giannis Antetokounmpo, the current big thing. These are two absolute athletic marvels and it is going to be really fun to see what they can do while they are on the floor.
Zion has been great, but there are times when you can see that he is still adjusting to the NBA game. With a lot of match-ups he's been able to use his freakish athleticism to overcome that, but tonight against the Bucks might not be one of those times. The Bucks and Giannis are one of the few that can match that athleticism and get things done on both ends of the floor.
Honestly, the Bucks are just a great team. Every day I look at the schedule and they are the first thing I look for. They only have seven losses on the season and four on the road. No other team has less than 11 losses. If you are going to go against them, you need to make sure it's worth it. Tonight is not worth it.
Portland Trail Blazers at Denver Nuggets Betting Tips:
It's hard to quantify exactly what is going on with Damian Lillard right now. His January stats are just staggering. Here's his stats over his last six games:
61 Points, 10 Rebounds, 7 Assists
47 Points, 6 Rebounds, 8 Assists
50 Points, 6 Rebounds, 13 Assists
36 Points, 10 Rebounds, 11 Assists
48 Points, 9 Rebounds, 10 Assists
51 Points, 2 Rebounds, 12 Assists
Insanity and it's hard to go against him here with all of the injuries to Denver right now. I just don't see anyone in the back court of Denver that will be able to control what is happening here and I think that Portland will once again make a game out of it.
Follow @SBTSportBetting