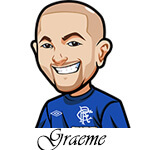 Follow @SBTSportBetting
My apologies for missing out on the golf betting tips last weekend.
I went with Vin to Vegas for the big All Elite Wrestling debut and unfortunately I forgot what a "life hangover" Vegas gives to you.
Not that I was hungover from alcohol – just from the trip itself. I had so many plans last week on return from my vacation and I ended up spending a lot of the week in bed, or on the couch just relaxing and watching the TV ha.
In saying that I wasn't relaxing watching the Memorial tournament – boy was my blood boiling at some points during that.
A couple of weeks ago here I said that after his performance at the Championship, Jordan Spieth was primed to win something in the next little while and I'd be looking at backing him.
Well he was causing me lots of concerns last week as he was looking like he might actually bloody win. Took me awhile to pluck up the courage to check his pre-tournament odds and saw he was 20/1. Ugh. I did some analysis and he would have been a 1/4u pick to win and top 5.
Luckily for us he couldn't do it whew.
This week we've got the RBC Canadian Open. Going to be an intriguing one. It hasn't been at this course since 2012. Over a thousand trees have been cut down since then. The greens are struggling a bit after the winter. The rain has been pretty heavy last few days. Then we have a beautiful sunny day on Friday.
A lot of question marks and it just feels like a tournament ripe for an upset. In saying that under these circumstances sometimes the best prevail. I wouldn't bet DJ at 6/1 though.
On my shortlist it was close but I cut out Webb Simpson, Shane Lowry and Jim Furyk. I just couldn't be convinced on them. I've ended up with four plays here.
My favourite play is Scott Piercy to win and Top 5. 28/1 odds, Piercy is coming in on excellent form. He got us this win recently at the Byron Nelson if you remember:

And I think he can keep that going here. Last time this tournament was held at this course, in 2012, Piercy won. While there are a lot of factors and a lot of changes I still believe his golf game suits this course.
I'm also doing two slightly smaller bets on Bud Cauley and Peter Malnati – both to win and Top 5.
Bud looked good last week, performed well here in 2012 and the metrics for this course suit him in my opinion. Peter is an interesting one where he was on my shortlist and I removed him but after further studying added him. At 150/1 I think he can make the cut at least and then it is anyones game.
Finally a small bet on Ryan Armour at 175/1 to win and top 5. Speculative one but if Ryan could just get some consistency going he could be a real contender.
Follow @SBTSportBetting