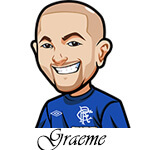 Welcome to this weeks golf tips.
First my apologies for skipping last week. I was in Vegas the weekend prior to that, and I often forget just how exhausting Vegas can be ha.
It took me the entire week to recover from a 4 day trip there. I also had a huge backlog of work and on Wednesday I kept pushing the golf tips back and back until I realized it was too late to do them.
It then made for quite a sweat for me during the Memorial Tournament. I've said here and to some friends that after watching Jordan Spieth at the PGA Championship, it's very likely that he could win a tournament within the next month and I'd be looking to bet him.
Well that just meant that all weekend I was sweating him at the Memorial and rooting against him – even moreso when I discovered he was 20/1. On Saturday I couldn't bear it anymore and went through the data to see if I would have picked him or not. It would have ended up being a 1/4u play to win & E/W. So I was VERY happy to see him end up out of the Top 5 ha.
This week we've got the RBC Canadian Open in Hamilton, Ontario. I live in Canada and I really need to go to one of those one day. Just one of those things where I'll have some friends commit to going earlier in the year, then it gets closer and suddenly they just don't have the time or the mony etc – and I'd rather not go myself. Oh well.
Nice to be back in routine anyway. Wake up at 5am on Wednesdays – my busiest day of the week – and get a whole bunch of other work done early in the morning. Then grab my coffee from the local cafe, come back here and pour over golf stats for hours. Sad to say but I honestly feel like I'm living the dream ha – days like this I just freaking love.
RBC Canadian Open 2019 Betting Tips:
The tournament was last held here in 2012. Some differences since then though with a lot of trees removed make it interesting. DJ is a huge favourite at 6/1. He didn't play here in 2012 but has had some stellar performances at the Canadian Open.
Lot of rain here in Ontario last few days so will make it interesting the first couple of days at least. Friday is going to be boiling out so going to be quite the test for the players with the drastic weather changes. I hear the greens are still a bit damaged from the winter.
DJ at 6/1 is just too low for me as tempting as he is here. I think the most amusing thing here is looking at Brooks and thinking "Is he good enough to win a tournament that is NOT a Major?". One of the most ridiculous but valid thoughts I've had in awhile when it comes to golf betting ha.
Webb Simpson was another that almost feels like it's worth a bet but I am just not feeling it this week with his price. Shane Lowry and Jim Furyk were possible contenders for me but I just couldn't pull the trigger.
Here's who I've got:
Scott Piercy 28/1 – 1/2u to win & E/W. A previous winner on this course, Piercy is coming in off the back of some solid enough form. Made the cut at the tough PGA Championship and if not for a brutal last day, would have placed in the Top 10 no doubt. Prior to that he had that excellent performance at the Byron Nelson. Don't forget the third place at the RBC Heritage either. Piercy has what it takes this week.
Ryan Armour 175/1 – 1/8u to win & E/W. Armour is a weird one at the moment. Since the beginning of the year he can't get any real run going. He had 4 cuts in a row before an excellent performance at the Honda Classic. Then a couple more cuts, bounced back at the Valspar, 5 more weak performances with 3 cuts then last weeks performance at the Memorial. Metric wise I think he clicks on this course but his consistency worries me. A small bet is justified at his price.
Bud Cauley 55/1 – 1/4u to win & E/W. Bud bounced back with a strong performance last week after a cut, stands out in the metrics for me, and had that 4th place here back in 2012.
Peter Malnati 150/1 – 1/4u to win & E/W. In solid form right now and looks to be getting better by the week. I like how he has been performing and with a weak field I'd be very disappointed if he doesn't at least make the cut here.
Nothing for the Shoprite LPGA Classic or the Golfsixes.