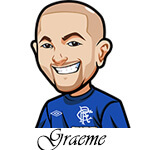 Welcome to Wednesday, October 30th 2019.
I'll be giving you your weekly dosage of golf tips and also covering todays NBA action.
Often I'd cover the NHL today too but oh man I went through each game and it's a stinker of a card.
Tampa and Oilers SHOULD win both their games but man you can't bet either of them right now. You also can't bet against them.
Tarasenko is a crushing loss for the Blues and one look at the advanced analytics says you can't back them without him. But man who is taking the Minnesota Wild right now???
Avs are an interesting one as they are missing Landeskog but when they missed him last year, I felt there wasn't that big a difference. I was wanting to back Florida in that one then I saw that.
Coyotes vs Habs you've got a great offense vs great defense. Personally I'd lean Coyotes there but that's more a gut play than anything else.
And then Canucks vs Kings I mean who have Vancouver beaten? I do lean Canucks there though. Kings are in trouble.
Let's get on with the golf and NBA. Take the night off from hockey.
Golf Bets: WGC HSBC Champions 2019
This is quite a tough tournament as it is top heavy in terms of prices. I like Rory but at 6/1 the dude is just unbackable. I love Hideki for this course but while I will be rooting for him, I've been burned by him in spots like this way too many times before to even consider him.
I've only got the three picks this week. Based on confidence levels of 1/8u, 1/4u, 1/2u and 1u I only have the one 1/8u pick and two 1/4u picks.
The first 1/4u pick is Sungjae Im to Win/Top 5. He has no course history here however metrics wise he jumps right out at someone who should be able to perform here. He's playing some good golf at the moment and at 28/1 is a nice little price.
The second 1/4u pick is Andrew Putnam to Win/Top 5. I liked his stats when I looked in the metrics and felt he would do well at this course. Then I noticed he performed very well here previously. Historically Andy has been a streak golfer where you see him getting better as time goes on and then he peaks before dropping. He's not on that rise right now but this year he hasn't been yet still pulled good results outta nowhere. Worth the play.
The 1/8 play – ugh – is Jordan Speith to win and Top 5. I feel silly even putting any money on Spieth at the moment. But then anyone betting Tiger last week would have felt "silly" and then look what he did. Spieth wants on Tigers team. That's why he is playing. We know he CAN perform. Maybe this will be a turning point for him. Boy I hope so.
NBA Bets October 30th, 2019:
I think Bulls get it going tonight. They're underperforming for me and after that complacency against the Knicks, I like them to right the ship and play till the end tonight. Bulls -2
I'm also taking Timberwolves +6.5. Big test for the unbeaten Minnesota lads. I like what I have seen from them and think they can be more than a match for Philly.