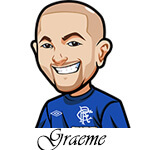 Hi all,
First I apologize for no tips last week. I was out at my cottage and didn't have the time to look over everything. I decided not to make any betting tips.
Was a fun week for the golf though and my cottage now has internet so it was nice to be able to sit and watch DJ take it on my phone.
The week before that we had a nice little place with Webb Simpson in the Wyndham Championship.
We had an E/W bet on Webb who was 25/1 and made it a salvageable week with his cash.
Here's the betting slip from that:

I'm back from the cottage now but very behind on work so while I catch up I'm just going to have to do a few bullet point bets with no explanation. Sorry about that.
Might be like this for the next couple of weeks too as I have the kids going back to school and so on so everything is going to be a bit of a mess.
Dell Technologies Championship Betting Tips:
Luke List: 1/4 unit to win & E/W
Jason Day: 1/4 unit to win & E/W
Charley Hoffman: 1/4 unit to win & E/W
Patrick Reed: 1/4 unit to win & E/W
Matt Kuchar: 1/4 unit to win & E/W
Czech Masters Betting Tips:
Stephen Gallacher: 1/4 unit to win & E/W
Cambia Portland Classic betting Tips:
Brooke Henderson: 1/4 unit to win
Austin Ernst: 1/4 unit to win & E/W