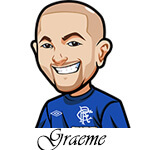 Well I hope everyone enjoyed the U.S. Open, especially my correctly predicting the winner!
I'll probably be more conservative this week. I find when you have a big win it's easy to jump on the next week full of confidence.
That's something I have did many times before and while sometimes it's worked out, I'd rather play it slow and safe.
So we'll go with small unit bets this weke.
But man – the US Open. It was a terrific tournament with such a fascinating ending – and hopefully all of you followed my betting tips, because if so you would have a nice healthy bank account after this one came in: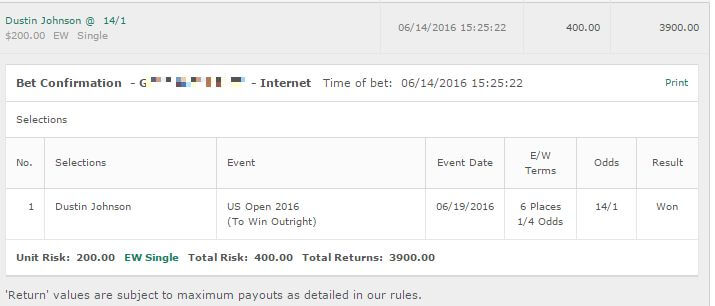 Thank you Dustin Johnson – and boy, do you ever deserve it.
Quicken Loans National Betting Tips:
My first bet is a quarter unit bet on Shawn Stefani 75/1. The last tournament Stefani played in was the FedEx St. Jude Classic and he had quite the time going 65-71-73-65. Stefani is one of those golfers who rarely retains his form throughout a tournament. He can have an amazing round followed by an insanely poor one. It can be frustrating from a betting perspective. But I did like what I saw from him at the St. Jude Classic, and he got a 2nd place here a couple of years ago. So I'm feeling okay with a small bet on him here.
I'm also going to throw a quarter unit on Marc Leishman 25/1. It feels like he is treading water recently but I've liked some of his performances here in the past and I have to wonder if he is going to come out here with something to prove. He was looking solid at the US Open then had a disastrous 3rd round – have to wonder if he is going to come out to this one just pissed off and ready to dominate.
That's all I got for the Quicken Loans. Both are to win & E/W.
BMW International Golf Betting Tips:
Quite a tricky one this – I could easily see Willett or Stenson taking it down. I'm a bit concerned about Stenson though and his withdrawal from the US Open. Willett too I haven't been convinced with his form lately despite some good performances.
I'm going to go with a quarter unit on Thomas Bjorn 100/1 based purely on his form on this course before. It seems to suit him and even though he's on a downswign on form at the moment he's proven capable here before.
Two other bets are Fabrizio Zanotti and Pablo Larrazabal. Both of them have stuck out to me when running the numbers to the point that at their prices I have to include them.
Quarter units on both, and all three are to win & E/W. Also just a random gut play on Tjaart van der Walt but I feel I am burning money there so I wouldn't really recommend that one. Just someone that I saw earlier and then placing my bets his name popped up and I was like "Ah gotta take it".