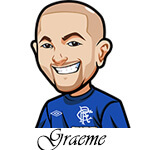 Follow @SBTSportBetting
Welcome to this weeks golf tips.
Man it's a busy time in sports right now and a busy time for me. The NHL season started up so I'm back doing NHL Betting Tips along with non-NHL leagues and boy that is keeping me busy.
Soon the NBA starts and I'll have to do that too ugh. Fun times.
Nothing came out of the Shriners Open last week. Only had the three small picks. Brian Harman was closest at -15 but couldn't contend with the top guys who went -23. -20 was a cash there so way off. All three made the cut at least.
Let's get on with this weeks tips – I've no clue what metrics will factor in for the Italian Open so have decided to skip that tournament unfortunately. Which sucks as it's the more interesting field. Actually screw it – 1/4u on Molinari to win & E/W the Italian Open. Why not. He's a nice price and is as good as anyone.
I'm slowly starting to look beyond the main tours FWIW. While not official picks yet as I'm still gathering data, the Bridgestone Open I like Seung-Su Han and Shota Akiyoshi to win & Top 5.
Houston Open Betting Tips:
Man – no sponsor for an event. Feels weird. This will be the last time it's held at the Golf Club of Houston.
Stenson is the favourite here. I'd love to back him and he is playing well. He's just been so hard to back this past year and after seeing some of the prices on him over the last few months, I can't consider him at 9/1.
I just want to note this odd pick that my system came up with – Sepp Straka. He's 110/1 here and the system likes him. However he's on the back of 5 missed cuts, and has never played this course. No way in hell could I advise him here but just wanted to throw it out as it's one of the most bizarre picks my system has made. Will be neat to see if he manages to surprise the world here.
Russell Henley: 25/1. You can't argue with his course form. Top 10 the last 5 years with a win in there. His current form isn't electrifying however he performs on this course well. Even when he isn't performing great he still comes in here and puts in a strong shift. With this being the last year of the tournament being here will that spur him on to log another victory? He also is a fan of the Bermudagrass. 1/4u to win & E/W.
Kristoffer Ventura: 140/1. I think he might have what it takes on this course. If you look at his progression he is adjusting to the PGA tour quite well. Last week especially he stood out and his warming up. One of those where you might want to bet him to win & E/W in the first round as opposed to the entire course as there'll be pressure on him. But worth a 1/4u to win & E/W.
Matt Every: 110/1. He's had a struggling last month in golf but looked much better last week. I liked his play and if everything is clicking, he may be able to bring it here. Last year he came 8th. Previous years have been crap here. If he can get his putting down, he may just content. 1/4u to win & E/W
Zac Blair: 100/1. Stood out for me on the metrics, and while he has been struggling a bit lately he still is able to bring it on as we saw at the Safeway Open where he performed well. 8th here 2 years ago. 1/4u to win & E/W
Players on my shortlist who just didn't make it were Cameron Tringale, Juan Sebastian Munoz, Nick Watney and Beau Hossler.
Follow @SBTSportBetting