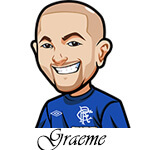 Follow @SBTSportBetting


[Get Exclusive Tips on our Patreon, Ad-Free
]
It's been a great ride alas it must end sometime, and Euro 2020 will end on Sunday, July 11th.
What a fun tournament it has been. I absolutely love covering these tournaments and I'm gutted it's coming to an end.
I will likely take a couple of weeks off following this. Mainly because I will want to go hide in a cave and pretend England didn't win if they do.
Let's have a look at this game.
Italy vs England Betting Tips:
I thought I would go through how both teams got here, and my general thoughts on them as they progressed.
In the group stage, England recorded three clean sheets. They defeated Croatia 1-0, Czech Republic 1-0 and drew with Scotland. I honestly wasn't too impressed with England during the group stages. They really didn't blow anyone away offensively. I never really felt they were anything special defensively either.
Italy in the group stages also recorded three clean sheets as they beat Turkey 3-0, Switzerland 3-0, and Wales 1-0. Now this was a team that DID look solid defensively I felt. They looked like a cohesive defensive unit and controlled the games well. Considering how Switzerland did that ended up being a very solid result.
England had a solid 2-0 win over Germany and I'll give them credit for that one; they played well. In saying that Germany looked piss poor. What happened to the Germany that looked so elite against Portugal? Very poor performance from Germany but England certainly looked their best so far.
In the round of 16, Italy had an extremely tight 2-1 victory in extra time over Austria. I was very disappointed in Italy in that one. Austria also scored although VAR cut it off. Very disappointined one by Italy.
England then walked all over Ukraine in a nice and easy game. That one was not a surprise at all. Ukraine and Sweden just looked a mess in extra time and I expected whoever would make it would be walked all over.
Italy then beat Belgium 2-1 and I was extremely impressed by the Italians here and how they scored. It was like with the snap of your fingers and boom Italy were up the other end and scoring.
The semi finals were interesting. We saw a similar goal by Italy again although they only beat Spain on penalties.
We all know what happened with England. Were they the better team? Yes. But I don't believe that was a penalty and it was horrific that the game was decided that way without the referee at least going to examine the VAR. England were very interesting in that one actually; they looked frantic and disorganized at the start and couldn't put a stamp on the game. There was no real cohesion up front.
The biggest difference in that one was Denmark just ran out of steam fitness wise and sat back. Even then England couldn't score.
Look I'm Scottish so I obviously am cheering on Italy – but when I look back at both teams and how they got here – I just prefer Italy. I love their ability to score on a whim. I think that is extremely dangerous and something the English are lacking.
England still don't seem to have it right tactically. They are lacking that team cohesion. A lot of individuals.
I'm not 100% convinced by Italy either. They've looked generally good defensively but also beatable and England have the individual talent to beat them.
Pickford looks extremely suspect. If I was cheering England I would be extremely concerned about him honestly.
I'm going to go with 2u on Italy to win Euro 2020 at 2.00 odds. Odds available at Bet365.
(Odds on this page are correct as of 2021/07/10 6:40:33 PM EST but are subject to change)
Follow @SBTSportBetting