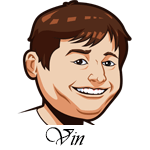 Follow @SBTSportBetting
Welcome, NBATips.Net readers to your new home.
It's a good night for the switch over here as we have a full slate of NBA games to work with.
Last night, Russell Westbrook made his return to Oklahoma City for the first time since the trade this offseason. The Thunder got out to a huge lead in the first quarter and never really looked back. James Harden has really struggled on offense of late and that was the case here. This was only the second time all season that the Rockets were held under 100 points.
Westbrook did have a good game though with 34 points and he was well received by his former fans as they gave him a standing ovation. It was nice to see compared to the reception we've seen for Kevin Durant in this same place over the years. Of course, Oklahoma City shouldn't even have a team because they were stolen from Seattle, but that's more of a rant for my LiveJournal.
A full slate of games tonight. Let's get into the tips.
Notable Upcoming Bets:
Miami Heat at Brooklyn Nets Betting Tips:
The Nets losing streak has extended to seven games and their injury situation remains bad. They are still without Kyrie Irving and tonight also has Wilson Chandler and Garret Temple listed as questionable. This team is not in a good way right now and they face a really tough match-up tonight in the Heat.
Miami is great. I think they are still being overlooked because they don't have that true 1-A Superstar (sorry, Jimmy Butler), but this is a great team with a great defense. They have a great coach and a ton of depth. They are playing well and their injury sheet is looking pretty clean for the game tonight. As much as I'd like to see the Nets turn things around, I don't think that is happening tonight.
Milwaukee Bucks at Sacramento Kings Betting Tips:
The Bucks are on a west coast road trip right now and the first game of the road trip saw them lose to the San Antonio Spurs. This was maybe the best thing that could happen to them as it set them up nicely to play hard in the following games. They beat the Warriors easily and now I expect them to show up strong again here in Sacramento.
The Kings have had weird injury issues all years and tonight they will be without Bogdan Bogdanovic. That is a big part of their offense and I don't fully trust this team without him. He is a big part of spreading the floor and a big chunk of their scoring.
That leaves the back court of Buddy Hield and De'Aaron Fox to carry the load tonight and I just don't like their chances against this Bucks defense. They will have a size disadvantage here and the Bucks are just plain great. A high line, but I think the win will be double digits so it's fine.
Follow @SBTSportBetting