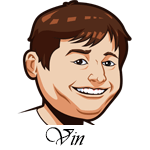 Follow @SBTSportBetting
A 1-1 record last night.
I said in the write-up yesterday that I wanted to break my own rule and go with the Bucks last night, but instead I settled for the over. Well, I should've went with the Bucks as they covered easily. They scored 32 or more in the first three quarters of this game and had a 17-point lead heading into the fourth quarter. This game was on pace for the over as well, but the fourth quarter was just meaningless by the end. They end up falling about five points short of the over which is especially frustrating when you see that nobody scored in the final 45 seconds of this game. The Bucks won 122-101 lead by Giannis Antetokounmpo with 32 points and 17 rebounds.
We did get a win with our 2 unit play of the Mavericks at home over the Sixers. The first half was a low scoring affair dominated by the Sixers, but the second half was all Dallas offense. They scored 68 in the second half compared to 41 in the first half. Luka Doncic fell just short of a triple-double with 19 points, 12 assists, and 8 rebounds.
We have an early slate on a Sunday today with the hottest team in the NBA playing. Let's take a look at today's tips.
Notable Upcoming Bets:
Utah Jazz at Washington Wizards Betting Tips:
The Jazz are the hottest team in the NBA right now. I said a few weeks ago on NBA Tips that this team always does this and they were getting ready to do it again, well that's what's happening here. They've won eight straight and 13 out of their past 14. Things are clicking and they are on the easiest part of their schedule right now.
Washington is an easy part of the schedule. They are 13-25 on the season and to make matters worse, Bradley Beal is listed as questionable for this one and Rui Hachimura is out. This team doesn't have much depth and they have the absolute worst defense in the league. I don't see this ending well.
The Jazz are a big favorite here, but I really see them dominating on both ends of the floor and winning this one easily.
Atlanta Hawks at Brooklyn Nets Betting Tips:
The Nets broke their long losing streak on Friday and today they should be getting Kyrie Irving back. They have a great chance to get things back on track here as they face one of the worst teams in the league.
The Hawks have been a mess all season and tonight they have Trae Young listed as questionable. Young is a huge part of their offense and probably the most irreplaceable piece that they have.
I have my own issues with Kyrie Irving, the Brooklyn Net, and how these two fit together, but tonight should be all Nets. His dynamic scoring works perfectly against a team like the Hawks that can't do much to stop him. It should be a happy homecoming tonight before the usual drama restarts.
Follow @SBTSportBetting