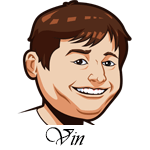 A 2-0 record last night. That's the third straight night with that record, a 6-0 run.
We took the Dallas Mavericks over the Golden State Warriors and this was an absolute shellacking. The Mavericks ended up playing their full roster in this one with 13 players hitting the floor for minutes here. This was a 124-97 win so there really isn't much interesting to say about it. John Wick 3 star Boban Marjanovic had 13 points and 11 rebounds in twenty minutes.
The red hot Utah Jazz were our other pick and this was a rare game decided in the second quarter. The teams were very close in the first, third and fourth quarters, but in the second quarter the Jazz dominated with a 29-19 score. That ended up being the difference here. Rudy Gobert was a big difference maker as he finished with 22 points and 18 rebounds. Joe Ingles lead the way with 27 points.
The most interesting stat line of the night belonged to Giannis Antetokounmpo who had 37 points and 9 rebounds in only 21 minutes. Just pure domination and he is the first player since 1982 to put up a stat line like that. The Knicks stink.
Notable Upcoming Bets:
San Antonio Spurs at Miami Heat Betting Tips:
The Miami Heat are one of the best home teams in the entire NBA. They have a 17-1 record at home on the season and are 12-5 in those games against the spread. They are coming off two straight losses here and should be highly motivated to play in this one.
While the Spurs are playing their fourth and final game of a road trip. Traveling can get hard and you can often be ready to go home which can make the final game of a road trip into a sluggish one at best. Considering the Spurs have a 6-12 record on the road and are just 2-10 straight up as a road underdog, I think my choice here is simple.
Miami should be highly motivated to get back into the win column here and they have the defense that can shut down San Antonio.
Indiana Pacers at Minnesota Timberwolves Betting Tips:
Karl-Anthony Towns is listed as questionable here and without him, the Wolves might as well not show up. Andrew Wiggins has gotten worse over every month of this season and I just don't like this team at all. It's time to trade Robert Covington and rebuild this thing.
The Pacers have been one of the more surprising teams in the NBA this team as they simply get it done without Victor Oladipo. The Malcolm Brogdon signing will go down as one of the best of the offseason, but this team is just built to survive. They've won two straight heading into this one and should continue their hot play.
Minnesota has a bottom-5 in the NBA Offensive Rating which is really scary to think about when they play without Towns. The Pacers have a top-10 Defensive Rating so this could be a quiet night for the Wolves offense. Minnesota is just 6-12 at home on the season.