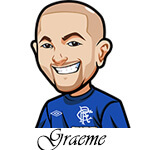 Well alas our great start to the year couldn't keep going, as we had nothing at the Sony Open.
It was a funny tournament to watch as I was ready to rage after the first round when Morikawa was killing it. I said last week that I fanced him for the tournament but at 18/1 I just couldn't back him. Luckily he couldn't keep up and didn't even track the top 20.
We did almost come close with Corey Conners who finished tied for 12th when all was said and done. He had a good finish to the tournament.
I said Kevin Kisner JUST didn't make the list for me and he came tied for 4th. Hopefully some of you backed him e/w.
Let's get to this weeks tips and Brooks is back baby!
Abu Dhabi 2020 Betting Tips:
An interesting tournament where all the top guys are popping up for me but their odds aren't great which makes it hard to find value. Cantlay is the favourite according to my system and the bookies have him joint favourite at 9/1 with Tommy Boy who is tied with Brooks in my system. So yes makes it a wee bit tricky this week let's try and find value further down the card.
I want to back Matthew Fitzpatrick but much like Moriwaka last week 18/1 just isn't good enough for me here. Thomas Pieters was a pick up until I went to do the tips this morning and he had dropped to 22/1. He was 28/1 initially and I liked that.
Patrick Cantlay 11/5: 1/4u to Top 5. Hasn't played in the Abu Dhabi before but like I said my system ranks the favourites this week and when that's the case, I generally like to back just one. I wanted to back him to win at 9/1 and I think there is value there but thinking back to why I backed him Top 5 as opposed to win in the Tournament of Champions, I'll stick with that.
Viktor Hovland 25/1: 1/4u to win & E/W. Jumped out at the top of the metrics for me. He's never played in the Abu Dhabi of course but coming off that excellent performance at the Hero Challenge and I think he can be a strong contender here. To be honest course form isn't something I consider too much here.
Paul Waring: 75/1. 1/8u to win & E/W and 1/8u Top 10. Waring ended last year strong with no missed cuts in over 10 tournaments, and various top 20 finishes as well as a few top 10. He finished 6th here last year, stands out in the metrics. I'm backing him to win & E/W and then a bet on him to finish in the top 10 due to how stacked the top level is here. I rarely post that additional bet so we'll see how it goes.
The Amex Championship 2020 Betting Tips:
Always a tricky one as it uses three courses. PGA West is the main one so I generally will base it on that but also have to factor in the others ugh. Couple of small plays.
Sungjae Im: 16/1. 1/8 u to win & E/W. Stands out on the metrics for me, and the price is juuuuust enough for me to back him slightly. 12th here last year. Thought he played well last week.
Vaughn Taylor: 50/1. 1/8u to win & E/W. I love the golf Vaughn is playing at the moment. He had a good performance here last year and last week looked like he was playing some damn good golf. I like him a lot here and think there is great value.
That's it for me this week. If you're looking for a bet in the LPGA Tournament of Champions Brooke is someone that's always worth betting. In saying that Nelly is a very strong contender and so I can't advise anything there.