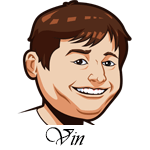 A 2-0 record last night. We have won 8 straight NBA games in this space. I hope you have followed and built your bankroll over these last couple of days.
We took the Miami Heat at home -5.5. This was a bit closer than we'd like, but ultimately a win with a final score of 106-100. The thing I love about betting on the Heat is that it is never the same player leading the way. On this night Jimmy Butler only had 12 points, but Kendrick Nunn had 33 points to lead the way. Nunn was perfect at halftime with 8-for-8 shooting which was the best-ever NBA shooting start by an undrafted rookie. The Heat are now 18-1 at home on the season.
We also took the Pacers -2.5 over the Wolves and this one came in after a huge finish by the Pacers, 28-22 in the fourt quarter, to win 104-99. No Karl-Anthony Towns, no winning. Domantas Sabonis returned here and had a huge game with 29 points, 13 rebounds, and 6 assists.
A great couple of days, but the only thing that matters in this league is what happens today. Let's take a look at today's game and try to keep this going.
Notable Upcoming Bets:
Boston Celtics at Milwaukee Bucks Betting Tips:
This is the game of the night and a possible preview of the Eastern Conference Finals. This is a must-watch game for an NBA fan as it should give us an idea of what this match-up might look like going forward. The front offices of both teams will be watching this one closely as well to see what their teams need to push them over the top.
The Bucks are a huge -10 favorite here as the Bucks have a 19-2 record at home. However, that record drops to 12-9 against the spread. Milwaukee has the number one Defensive Rating in the NBA and the third best Offensive Rating in all of basketball. They are not an easy match-up for any team and there is a reason they are on pace for 70 wins right now.
That said, that line is really high. The Celtics are 11-7 against the spread on the road this season and have a huge 13-4 against the spread against teams with a winning record. They lost bad last night, but that was a clear case of the team looking forward to this one. They had their minds in Milwaukee and now they are in Milwaukee. Brad Stevens has proven to be a great at motivating his teams when they are on the second game of a back-to-back. During the Stevens era, the Celtics are 42-19 ATS as an underdog on the second night of a back to back.
I like the Bucks to win this one, but this line is just too high. This should be a competitive game.
Utah Jazz at New Orleans Pelicans Betting Tips:
The Jazz have won ten straight games and 16 out of their past 18. The Jazz have pushed themselves up to a tie for the second seed in the West and are just rolling right now. They go for eleven tonight and I really like their chances.
The reason is injuries. Jrue Holliday is out here and he's a huge part of what they do on both ends of the floor. While J.J. Redick is listed as questionable. As much as I like Brandon Ingram (listed as probable here), it's really hard to win in this league while missing your starting back court. The Jazz play great defense and they should throw everything they have at Ingram here.
The line is a lot lower than I'd expect based on those injuries and the Jazz going for 11 is a great bet.