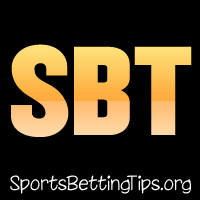 Follow @SBTSportBetting


[Get Exclusive Tips on our Patreon, Ad-Free
]
In the early days of Lebron James' career, Nike ran an ad campaign that said "We Are All Witness". The idea was we are all witness to Lebron James, we are all witness to the next big thing in the NBA and we are all witness to one of the greatest players the league has ever seen. It was true. He was those things, he is one of the best players we've ever seen, but last night we were all witness to something else. Last night we were all witness to Steph Curry ripping the mantle of best player in the NBA right out of Lebron's hands.
Last season, Steph Curry won the MVP and the Golden State Warriors beat the Cavaliers for the championship, but the consensus was that Lebron James was still the league's best player thanks to the way he carried that team to competitiveness in that series. After last night, I think Steph Curry is the MVP, the Warriors will be the champs and Steph is the best player in the NBA. It's not only that the Warriors won by 34, but the way they did it. Lebron James had a -34 point differential. Lebron, Kyrie Irving and Kevin Love combined for just 27 points. This was a slaughter. You can say it was just a regular season game and that's true, but 34 point losses between the likely NBA Finals opponents simply don't happen when everyone is healthy. Last night was a message. The Warriors are repeating and this is Steph Curry's league now.
Both of these teams are off tonight so we turn our attention to some other teams. There aren't any great NBA games tonight like last night's had the potential to be, but there are some strong betting opportunities. We also have some great hockey action with the Blackhawks looking for their franchise record 12th consecutive win and a big Montreal-Boston game.
NHL Betting Tips:
You really want to bet against the Chicago Blackhawks right now? They are the hottest team in the NHL and they are playing their little brother who they constantly beat up tonight. Not only that, but Nashville is 3-5-2 over their past ten games and are 1-2 against Chicago this season. The only thing that worries me here is that this game probably "means" more to Nashville than it does Chicago. This is probably the closest they are getting to the Stanley Cup this season, but that doesn't really matter when one team is that much better than the other. Chicago +105 to keep the streak alive.
One of the top rivalries in the NHL also goes down tonight with the Habs taking on the Bruins. Both of these teams have struggled as of late, but they are both top ten in goals and those struggles should translate into a high scoring game. Over 5 goals feels like a sure thing tonight.
NBA Betting Tips:
The Milwaukee Bucks come into tonight's game in Miami against the Heat having won three of their past four games. They've started to look like that exciting young team we saw last year and Giannis Antetokounmpo is really starting to come into his own as an NBA player. The Heat are a much better team at home, but their season point differential is only 0.9 which doesn't paint the picture of a great NBA team. The Bucks +5.5 is a nice play right now. They've been playing much better as of late and they have a much more potent offense. You never know who you are going to get with this team, but the Heat aren't really scaring anyone right now.
Phoenix has to be the most disappointing team in the NBA this year. They were so close to being something and now it all just fell apart and it feels like they'll have to start over again. They host the Indiana Pacers who beat them by 19 last week. Indiana -6.5 feels like a steal in comparison to that game and Phoenix's sad season will continue.
Follow @SBTSportBetting