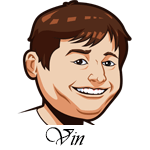 Follow @SBTSportBetting
A 1-1 record last night.
We took the Pacers at the Jazz last night and that ended up being a huge mistake. The Jazz just absolutely dominated the Pacers throughout this game and ended up winning by 30. There really isn't a lot to say here as the Jazz won every quarter of this game and put it out of reach early. Rudy Gobert was a big part of that with 20 points and 14 rebounds while Donovan Mitchell lead the way with 25 points.
We also took the San Antonio Spurs getting four points at the Suns and they ended up winning outright, 120-118. This game seemed a lot closer than it was as the Suns had a 35-24 fourth quarter. The Spurs got good performances across the board as DeMar DeRozan, LaMarcus Aldrige, Derrick White, and Bryn Forbes all had 18 points or more. White lead the way with 25 points off the bench. Devin Booker did his best to drag the Suns to a win with 37 points.
Last night also saw Anthony Davis make his return to the Lakers in their game against the Celtics. He probably could've waited another game as the Lakers got absolutely blitzed by the Celtics. Boston won 139-107 as they won every quarter. Jayson Tatum lead the way with 27 points.
It's been kind of a weird schedule week for the NBA with only two games on Sunday, a full slate yesterday, and only one game tonight.
Notable Upcoming Bets:
Los Angeles Clippers at Dallas Mavericks Betting Tips:
This is a pretty big game, but it features a couple of big injuries on both sides. The Clippers will be without Paul George for this one while the Mavericks have Kristaps Porzingis listed as questionable for this one.
Both of these teams have been playing well of late. Dallas has won four straight games while the Clippers have won three straight. These two teams played once already this season in Dallas and the Clippers won that won 114-99. That game took place back in November and the Clippers did have both Kawhi Leonard and Paul George healthy for that one.
The total on this one is set pretty high at 232.5 which is somewhat intriguing. The Mavericks have went over in their past two games as the defense takes a hit without Porzingis since the team is a bit smaller. I have my reservations about taking that though as the Clippers defense is just really good. Of course, the Mavericks have the top Offensive Rating in the NBA, but I'm just not seeing it tonight with the Clips holding them to 99 the last time out.
The Clippers are just good and when Kawhi Leonard decides to turn it on, there is nobody that can stop him. I am a big fan of Luka Doncic, but I think that Patrick Beverley will really drive him crazy here tonight. If it's close, I can see Kawhi closing on him and I just don't see a strong secondary option. The Mavericks are only 10-13 against the spread at home this season and I don't see that record getting much better here.
Follow @SBTSportBetting