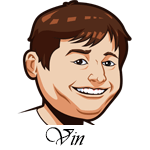 Follow @SBTSportBetting
A 1-0 record last night.
The Clippers were a small underdog at Dallas last night and came out with the outright victory, 110-107. This was a big win in the standings as they improve to 2-0 against Dallas and will now hold the tiebreaker against them. This was a real battle of superstars as Kawhi Leonard had 36 points and 11 rebounds while the Mavericks' Luka Doncic had 36 points, 10 rebounds, and 9 assists. Kristaps Porzingis returned here and his rust may have cost the Mavericks as he finished with 10 points on 4-for-17 shooting. The Clippers have now won four straight games.
We're back to a full NBA slate tonight with plenty of games to choose from.
Before I got into today's tips, I wanted to mention that Graeme and I started a WWE/AEW betting podcast called Going Over: Bet Pro Wrestling. We recorded our first episode focusing on this Sunday's Royal Rumble. It's an easy listen at under 20 minutes so if that's something that interests you, give it a try.
With that out of the way, let's get to today's NBA Tips.
Notable Upcoming Bets:
Los Angeles Lakers at New York Knicks Betting Tips:
The Lakers are always going to be favored over the Knicks, but this one is just a perfect storm that favors the Lakers.
For one, they are coming off that ugly loss against Boston. That alone should motivate them to play hard tonight and get back to their winning ways. Second, Anthony Davis is back. His minutes were limited last time out and he showed some rust, but there might be no better team in the league right now to shake off rust against than the Knicks. I can see him playing limited minutes again here, but doing a lot more with them.
Finally, the Knicks are beat up. Their best player Marcus Morris was taken out of the last game and is listed as questionable here. Dennis Smith Jr. is also questionable while R.J. Barrett is out. That doesn't leave much of a back court and without Morris there isn't much scoring either.
Honestly, I was surprised to see that this line is only 11 points. The Lakers should absolutely dominate this game and I see them winning by far more than 11 points.
San Antonio Spurs at New Orleans Pelicans Betting Tips:
Brandon Ingram seems to get better every game and he's really getting this Pelicans team to another level. They are 11-5 over their past sixteen games and are really making a push in the Western Conference. Zion Williamson will be returning here and this is going to be a sold out, raucous crowd in New Orleans. On top of that, the Pelicans are now just 3½ games back of the final playoff spot in the Western Conference with the Spurs being one of the teams in their way.
The Spurs have been playing better, but I don't think they'll be able to match the athleticism of the Pelicans young stars. The headlines are going to be all about Zion, but I really think Ingram is going to go off tonight and show the world what he's become on national television.
Follow @SBTSportBetting