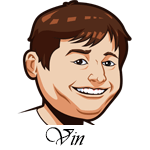 A 2-0 record last night.
It felt good to get back to our winning ways last night with an undefeated night for +3 units.
We took the Mavericks for two units last night and this team put on an absolutely incredible first half. They scored 78 points (!) in the first half and went to the breaking leading 78-63. Luka Doncic had 20 points in the first half and this game was just over. The second half was nail biting for a bit as they definitely took the foot off the gas, but the Mavericks won 133-125 to easily cover the -5.5 spread.
Our other pick was the over in the Cavaliers/Wizards game and this one came in easily as well. I didn't think this game would feature much defense and that's exactly what happened as the Wizards won 124-112. Bradley Beal lead all scorers with 36 points.
Last night, we saw the release of the NBA All-Star Starters.
Western Conference:
Dallas – Luka Doncic
Houston – James Harden
Lakers – LeBron James (captain)
Clippers – Kawhi Leonard
Lakers – Anthony Davis

Eastern Conference:
Atlanta – Trae Young
Boston – Kemba Walker
Toronto – Pascal Siakam
Milwaukee – Giannis Antetokounmpo (captain)
Philadlephia – Joel Embiid
The real surprises are in the Eastern Conference where Trae Young grabbed one of the guard spots over players like Kyrie Irving, Kyle Lowry, and Bradley Beal. I have to give it to the voters here as this vote is pretty tuned in with what's happening in the NBA right now. As a reminder, the two captains will hold a draft for their teams so this year's game will be Team LeBron vs. Team Giannis.
Notable Upcoming Bets:
Denver Nuggets at New Orleans Pelicans Betting Tips:
After that small taste of the Zion Williamson experience on Wednesday, I am beyond hyped for this game. Zion vs. Jokic is a match-up that we should be seeing in the West for a long time to come.
That said, the match-up isn't exactly fair tonight. The Nuggets are just decimated by injuries right now with Paul Millsap and Jamal Murray out for tonight, and Michael Porter Jr. and Gary Harris listed as questionable. This team is held together by a thread right now and I don't like their chances on the road.
The Pelicans are going really well right now with Brandon Ingram really finding himself. I'm hoping he ends up as an All-Star this year. There will be growing pains with him and Zion learning to play together, but I believe they'll do well together tonight. There's no one on Denver to stop them right now.
I love this game more than maybe any other game all season so I am going the full monty, five units!
Los Angeles Clippers at Miami Heat Betting Tips:
This is a real interesting one as the Miami Heat have only lost one game at home all season, they are an NBA best 20-1 at home on the season. They draw a tough match-up here against the Los Angeles Clippers who have proven to be one of the best teams in the NBA this season.
This one will be interesting as injuries really dominate both teams. Paul George is out and Patrick Beverley is listed as questionable for the Clips. While Justise Winslow is out and Goran Dragic, Jimmy Butler, and Kendrick Nunn are all listed as questionable.
With that amount of injuries, you have to go with the team with the best players on the court and that is definitely going to be the Clippers. Kawhi Leonard is the man while Montrezl Harrell and Lou Williams are instant offense. This team will miss their players a whole lot less than Miami will tonight.