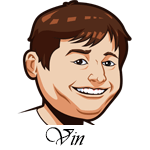 A tough 1-1 last night.
I went big on the Pelicans over the Nuggets and paid the price. A big part of that logic was that Michael Porter Jr. and Gary Harris were listed as questionable. Well, they both ended up playing and Porter had a great game. While the Pelicans had a sloppy game with plenty of turnovers. We were expecting some growing pains with Zion Williamson and Brandon Ingram playing together, but neither of them did very well here. The Nuggets had a huge first quarter and never looked back. That's annoying as so very often in the NBA we see something like that and can guarantee the other team will make a run at some point. Here, it never happened. Just a bad game all around here.
Our other tip was the Clippers on the road against the Heat. The Clippers dominated this game and looked like an easy cover, but then the Heat put on a serious fourth quarter rally with a 32-21 score in the final frame. Luckily, the Clips were up enough where they were still able to cover the -4 with a 122-117 win. Kawhi Leonard had a monster game with a 33 point, 10 rebound, 10 assist triple-double.
Saturday is always a great day for the NBA. Let's get to the tips and find some winners.
Notable Upcoming Bets:
Oklahoma City Thunder at Minnesota Timberwolves Betting Tips:
Both of these teams are in schedule hell with this being their third game in four nights and the second half of a back-to-back. Minnesota is at home, but the real difference between these two teams is recent play. The Wolves have lost eight straight game while the Thunder have won four straight.
The Thunder are one of those teams that just continue to get better. They are 9-4 in January and are currently the 7th seed in the playoff seeding with a 5.5 game lead over the 8th seed. Chris Paul has really proven that he is one of the best point guards in this league as he's finally in a place where he can be himself.
Minnesota is just a mess. They are 2-7 against the spread as a home underdog, 5-16 ATS in home games, and 3-10 straight up in January. They have Karl-Anthony Towns and Anthony Wiggins healthy so there really is no excuse. This team just doesn't work.
The Thunder are better coached and will be better prepared for the schedule. They have a 7-0 ATS record on back-to-backs this season and I expect them to continue that here.
Los Angeles Lakers at Philadelphia 76ers Betting Tips:
I very rarely go under because in the modern NBA, what's the point? Teams shoot so many threes that a few lucky bounces and you're out of luck. That said, I am going to make an exception to that rule tonight.
For one, both of these teams have terrible outside shooting. For two, since losing Joel Embiid that's just how the Sixers have been playing. They've played eight games since losing Embiid and six of them have gone under.
While the Lakers are dealing with a myriad of injuries right now. Anthony Davis and Javale McGee are both listed as questionable tonight while Kuzma and Rondo are probable. This is also the fifth straight road game and final game of a road trip for the Lakers which is something I look at it in terms of fatigue.