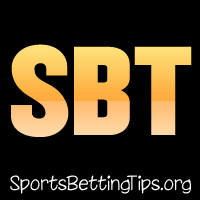 Follow @SBTSportBetting
A 1-0 record last night.
We've been saying for some time that some luck would start going our way and that's exactly what happened last night. The Warriors dominated the Wizards, but they were laying huge points on the road. We took the Wizards +9 and it didn't look like it was going to happen. Then the Wiz scored the last seven points of the game and lost 126-118. A cover. I'll take that kind of cover any day as I've been on the other side of it before.
A typical full slate of Friday games today with a very interesting match-up between the Houston Rockets and Toronto Raptors. Chris Paul is actually listed as questionable for this one which is an upgrade of where he's been for the past several weeks. I doubt he'll play, but he will be back soon.
Minnesota Timberwolves vs. Utah Jazz: I've said this before, but the Jazz had one of the toughest schedules to start the season and are now getting back on track. They are 8-2 over their past ten and are a huge favorite here. I think they are maybe a little too big of a favorite though as Minnesota has been playing some good ball as well. They are 7-3 over their past ten and have won three straight. This seems like a -8 game and it's -10.5. Wolves look good, but it's hard to go against Jazz at home right now.
Los Angeles Clippers vs. Chicago Bulls: I don't understand the love the sportsbooks are giving the Bulls. The Clips are -5 here, but that seems low. The Bulls are on a 1-11 stretch right now. This is the fourth game of a road trip for the Clips which backs me off of going for this one, but it's hard to imagine the Bulls beating a team like this that is better than them in every way.
Milwaukee Bucks vs. Charlotte Hornets: Will the Bucks win? I'm almost positive of this. They have been outstanding at home this season with a 21-4 record. The crowd will be feeding off Giannis Antetokounmpo being the East All-Star leading vote getter and captain, and you have to think Giannis will be feeding off them as well. It's a pretty great time to be a Bucks fan. Will they cover the nearly twelve point spread? That I'm not so sure of.
Toronto Raptors vs. Houston Rockets Betting Tips:
This should be good. James Harden is on one of the most historic scoring runs that we've ever seen. He would lead the league in scoring if free throws didn't exist. He would lead the league in scoring if three pointers didn't exist. He is just doing it all over the court right now and it doesn't seem like there is anyone who can stop him.
Enter Kawhi Leonard. A multi-time Defensive Player of the Year, if anyone can stop Harden it's going to be this guy. This is why they traded for him and this is his chance to show what he can do. It's been two weeks, but the Bucks set up a pretty interesting strategy for stopping Harden and the Raps are a team that is fully equipped to take advantage of it.
The Raptors are set up roster-wise to beat this team as they just have more depth than them. The only way the Rockets can win right now is with the James Harden show and the Raps have someone who is uniquely qualified to stop him. I am loving the Raptors here and excited to watch this showdown of superstars.
https://www.Bovada.lvBet Raptors -2.5
Follow @SBTSportBetting