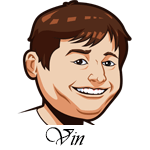 Follow @SBTSportBetting
With the NFL regular season in the bag, most of the bowl games finishing up and Christmas in our rearview, it is time for the NBA to take full focus. The games always seem to take on more importance at this point in the season and the play moves up a level as well. We have a full slate of games with some solid match-ups tonight to kick things off.
The playoffs are still pretty wide open in the East as everyone is still fighting for position including a big Pacers/Pistons game tonight. In the West, the eighth seed is the big question mark and tonight's Nuggets/Kings game has implications there. The game of the night is probably the Boston Celtics hosting the Utah Jazz as these are projected to be two teams that should easily be a top-four seed in their respective conferences. Let's take a closer look at tonight's games and see what we have to work with.
Notable Upcoming Bets:
NBA Betting Tips:
What could've been the match-up of the night is derailed by the schedule and injuries as the Celtics host the Jazz. Utah has been one of the best teams by the numbers thus far this season, but they are playing on a back-to-back and their third game in four nights tonight. That is always doom for even the best of teams. They are also likely to be without George Hill who is still recovering for a concussion. One most nights we'd be all over the Jazz in this one, but not tonight. The Celtics -6 should be able to roll.
Two teams jockeying for position in the East will also face off tonight as the Pistons battle the Pacers. Detroit has been on a free fall of late as they are just 3-7 over their past ten games. Injuries have played a factor, but they have been a mess on offense as well with players sniping at each other. There are tons of questions surrounding Andre Drummond and Reggie Jackson and I just don't love this Detroit team.
While Indiana has had problems this year as well, I don't think they are bad enough to be a nearly five point underdog to this Pistons team. They have Paul George and Myles Turner and that is a great foundation that gives them a shot every night. I expect a close game here tonight and a possible Indiana win. Pacers +4.5
One team that has really been playing well lately is the Denver Nuggets. Nikola Jokic is a really great player and now that the team has started focusing on him more, they have really turned into a pretty decent squad with a very powerful offense. The only thing I don't like tonight is that they are playing on a back-to-back and Sacramento has beaten them the last three times out. This game has by far the highest total on the board tonight at 216 and it will be a horse race all the way with very little defense in sight. That kind of game definitely favors the Nuggets and we'll be taking them. Denver -1.5
Follow @SBTSportBetting