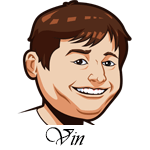 Follow @SBTSportBetting
A 4-1 record on Tuesday. Nice.
Tonight we get one of the biggest marquee match-ups in the NBA as the Houston Rockets host the Golden State Warriors. The only problem is there will be no James Harden who suffered an injury that will keep him out for at least two weeks.
It's hard to think of a bigger blow to an NBA team than the Rockets losing James Harden. He is such a huge part of everything that they do. He's averaging 32 points, 9 assists and has a huge 36.1 usage percentage. He is everything to them and his 10 three point attempts and 10 free throw attempts per game will be really hard to fill. Chris Paul is back and looking great, but it's hard to say if he'll be enough as their is now a real depth issue with this team who is also missing Luc-Richard Mbah A Moute.
Houston was able to grab the win last night, but that was against the lowly Magic. Tonight is the Golden State Warriors. That is like going from playing Atari to Nintendo Switch. Things might turn out much differently here tonight and we could catch a glimpse of what the next couple weeks might look like for Houston. The top seed in the West, which they seemed to want so badly, could be in jeopardy.
Notable Upcoming Bets:
NBA Betting Tips:
The Warriors -5 are back at full strength and with this game airing on national television, it's hard to find reasons not to like them here tonight. The Rockets got the win last night, but that felt more like the "let's rally around our injured player"/team effort kind of game than anything. Without Harden and Mbah A Moute, this team is shorthanded and we expect the Warriors to take full advantage of that.
The Clippers are playing good as of late, but most of those wins have come against the lottery bound teams in the NBA. Tonight they face the Thunder who are really playing well as of late. Since changing the offense to focus more on Westbrook and George, things have really started humming for them. I think the Clippers are getting a bit too much respect in this one and really like the Thunder -1.5 tonight.
NHL Betting Tips:
The story of the NHL season has to be the expansion Golden Knights being really awesome at hockey. They are currently the top team in the Western Conference and it's hard to imagine this season working out any better than it has for them. They are currently on an eight game winning streak and it almost feels ridiculous to go against them at this point.
They head to St. Louis tonight for a game against the Blues. The Blues have won two straight, but overall aren't coming into this one in great form as they are just 4-6 in their past ten games. Also, they are playing the Golden Knights and all they do is win. Vegas +100 is the play.
Follow @SBTSportBetting