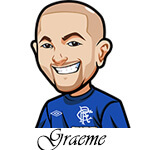 Follow @SBTSportBetting
Well last week was fantastic!
I honestly wasn't even going to do the tips last week. Like I said I had to fly to Scotland due to a family emergency then I was at the cottage and it can be hard to do the work there on the laptop. My head was just all over the place too as my dad had just passed which was why I was over in Scotland.
I finally decided that doing the golf tips and losing myself in numbers for a few hours was the best thing for me. And we managed to get two E/W winners out of it!
It could have been even better too. Bernd Wieseberger probably could have won the Irish Open if it hadn't been for that Superman run by Jon Rahm. And Collin Morikawa was an incredible contender in the 3M open ending up just one stroke behind Wolff.
Here's the betting slips: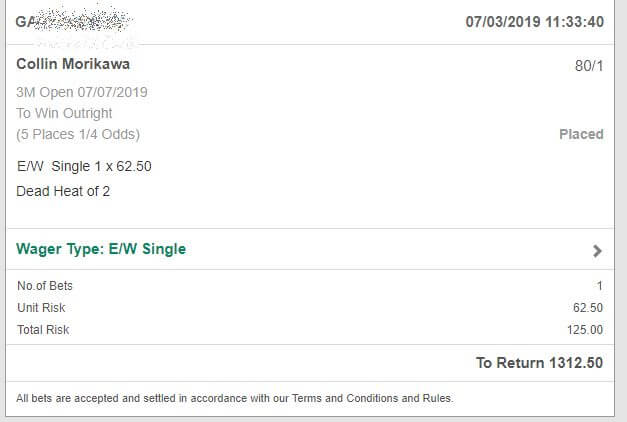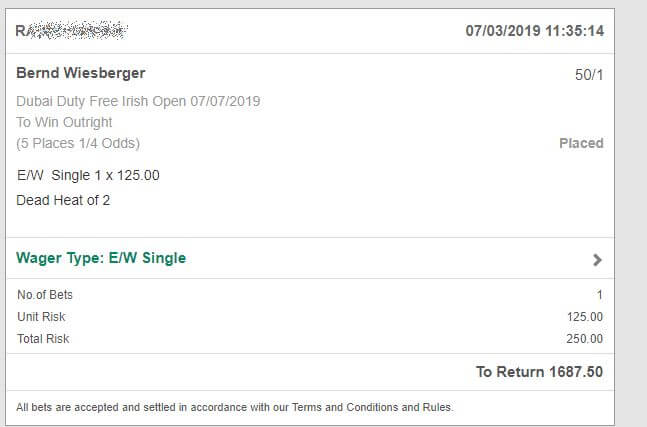 Anyway yeah that felt good ha. Let's get on with this weeks tips. I've decided not to cover the Scottish Open. I've read up a lot on this course and I'm just not comfortable betting on it. I think there is a lot of question marks over what will be a factor there.
John Deere Classic 2019 Betting Tips:
Putting is generally the name of the game here. Fun course and it's one of those courses where experienced players at it generally really like it.
We have a lot of recent amateurs turned pro at the top of the odds however I'm going to look primarily at players who have experience on this course.
Troy Merritt: 66/1 – 1/8u to win & E/W. Troy really isn't someone I want to back here. He's made the cut 5 out of 7 times but he really hasn't threatened at all with his best place in 20th 5 years ago. His form is inconsistent right now as well. He's coming in off that 7th place at the 3M but the thing is he really isn't one of those golfers that "run hot". Despite that, he stands out in the metrics that suit this course that he's a must bet for a small amount. If you just go by the metrics he should be one of the top contenders here honestly.
Zach Johnson 28/1 – 1/8u to win & E/W. Another one that I just feel obligated to have something on. This one is less about the metrics and more about his course form. He's not the golfer he used to be but considering his performances here with 6 top 3 finishes
Vaughn Taylor 66/1 – 1/8u to win & E/W. Much like Merritt, Vaughn isn't a consistent player. He had two solid performances at the Rocket Mortgage Classic and the Travelers Championship. He's played here before and doesn't do too shabby. His putting is excellent at the moment and that could be a factor here
Cameron Tringale 66/1 – 1/8u to win & E/W. Just one where he kept popping up on the metrics enough for me to back him. Incoming form not the worse and course form has been alright.
LPGA Marathon Classic Tips:
So Yeon Ryu is a good contender here however 8/1 is just too short for me. 12/1 it'd be a play.
Mirim Lee 33/1 – 1/8u to win & E/W: Some solid performances here over the years. Mirim Lee is having a rare burst of form at the moment after three straight cuts. A 7th place in the Championship followed by -12 in Arkansas she is worth a bet here.
Daniela Darquea 175/1 – 1/8u to win & E/W: This one intrigued me a bit. Daniela only played once here but got a 5th place. She had an extremely rare burst of form at the PGA Championship and in Arksansas, making two straight cuts for the first time this year. Looking into it further, she seems to be one of those golfers that can perform on specific courses quite well. There's not a lot of sample data however as she just joined the LPGA in 2018. Just one of those "taking a shot" bets.
Follow @SBTSportBetting