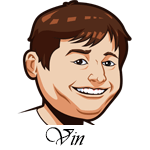 Follow @SBTSportBetting
One of the two finals of Wimbeldon is set as Simona Halep will take on Serena Williams in the Women's Final. It was an interesting road for both of them as they were ranked seventh and eleventh respectively. Last year, Serena made the finals while also being a low seed only to lose to Angelique Kerber. Serena is still chasing her first Major victory since returning to the sport from pregnancy. A lot of eyes will be on this one.
The men's semi-finals are tomorrow and we have a huge match-up between Roger Federer and Rafael Nadal. This is their first Wimbeldon match-up since 2008 when the two played what is considered to be one of the greatest matches of all-time.
We see baseball return tonight with one game between the Astros and Rangers. The Astros are one of the best teams in baseball again this season despite some of the injury issues they've had. This team should be getting Carlos Correa back soon which will help a lot. That is a bigger addition than anyone likely moved at the deadline. While the Rangers are in the Wild Card hunt, they are not really considered a favorite and a loss in this series could lead them from contenders to sellers.
Notable Upcoming Bets:
MLB Betting Tips:
Houston Astros at Texas Rangers: The system believes in Lance Lynn. He has a 3.91 ERA/2.98 FIP on the season and has done a great job of limiting walks and keeping the ball in the park. He's been solid at home and the Astros don't have Correa back yet.
The Astros will start Framber Valdez here who has a 4.57 ERA/4.22 FIP on the season. He's only made a few appearances on the road this year and they haven't been all that great. While the Rangers are not great against lefties, the system sees them being great against this one.
CFL Betting Tips:
Edmonton Eskimos at BC Lions: The Eskimos beat the Lions earlier this season with a huge 39-23 win. The Eskimos offense has been one of the hottest in the league thus far and Trevor Harris has really been racking up the yards. While I think that the Lions acquit themselves better here, I am not quite ready to discount that Edmonton offense yet. I think we can see another high scoring game here and the over looks like a solid bet.
Wimbeldon Betting Tips:
Rafael Nadal vs. Roger Federer: While the all-time series between these two has been lead by Nadal, Wimbeldon is a special place for Roger Federer. He has eight championships here and a 2-1 record against Nadal on this court. He's always been solid on grass and this is the place where he made his name. Despite that, he is a slight underdog here and I am picking him to make the final here. He's really re-discovered his magic over these last couple of rounds and this court always brings out the best in him.
Follow @SBTSportBetting