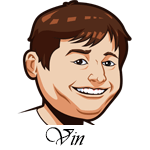 Follow @SBTSportBetting
The World Cup Quarterfinals were some amazing examples of just why this is called the beautiful game. I picked against England in that round, but I won't be making that same mistake again. This is a young team with a really exciting young nucleus that has shed all the baggage of past English teams. It's great to watch and tomorrow's game against Croatia should be a great one.
That's not all that is going on in England as we are seeing some great performances at Wimbeldon. Serena Williams is back from her childbirth and she's just as good as she's ever been. Meanwhile, Roger Federer has been putting up another vintage performance at the grass court. There is a reason that these are two of the greatest tennis players we've ever seen.
Of course, we still have a full slate of baseball as well and the WNBA is in action. A ton of tips today so let's get right into it.
MLB Betting Tips:
Just one game I am liking today and that's the Red Sox -1.5 over the Rangers. The Red Sox are playing at home where they have been great this year, they are facing a right handed pitcher who they hit better than just about anyone in this league and that opposing pitcher is named Yovani Gallardo, who is not good. This is a great place to grab the Sox.
WNBA Betting Tips:
Seattle against the Sparks was a game that when I looked at the line I had to rub my eyes. How is this line only Seattle -2.5? The Storm are the hottest team in the league right now and clicking on all cylinders while the Sparks are one of the coldest. Seattle has won five straight and is playing at home while LA is losers of three straight with the last two being by 10+. Seattle is a great home team and this feels like a lock.
Notable Upcoming Bets:
Wimbeldon Betting Tips:
I don't claim to be a tennis expert or anything like that, but Serena Williams +400 is a great bet. She is still being underrated because she is on the comeback trail from her childbirth, but she is the best female tennis player in history and has dominated this tournament over the year. She is looking more and more like herself in each match and at 4/1 is a tremendous value.
World Cup Betting Tips:
This tip is for tomorrow's game as it takes place at 2:00 eastern time.
Croatia is coming into this game after two emotional wins as they needed penalty kicks to beat both Denmark and Russia. They allowed a late goal to Russia in extra time that forced that and that's what gives me pause about them. It feels like they are lucky to be here while England has been playing really well. They are coming off a 2-0 shutout and seem to be in slightly better shape. Many Croatian players looked burnt after the second straight extra time game.
Between momentum and pure agility, I have to take England +130 here.
Follow @SBTSportBetting