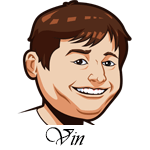 Follow @SBTSportBetting


[Get Exclusive Tips on our Patreon, Ad-Free
]
A crazy unlucky 0-2 last night.
Josh Hader has been the best reliever in baseball this year. 16.5 K/9, a 1.55 ERA. This guy is an All-Star and when he comes in you can be pretty darn sure that he's going to shut it down. He entered the game where the Brewers had a slim 2-1 lead of the Marlins of all teams. This should be easy, right? Back-to-back homers. In 30 games this year he'd only allowed two homeruns and six earned runs. Back-to-back homeruns, worst team in baseball. Unbelievable. The Brewers would tie then lose in extras, but this was the game right there.
The Rays game where we laid the -1.5 may have been more frustrating. The Rays had a 5-0 lead after the first, a 7-3 lead after the third and a 9-7 lead after the seventh. They kept letting the Tigers back in and won the game in extras, but only by a single run. That tenth inning was annoying too because you knew if it was the 8th, they would've scored a lot more than just one. Just frustrating to watch a team blow leads like that.
I mentioned that the system liked the under in both Yankees/Orioles game yesterday, but it felt like a lock that they would split that. They did.
Not a lot of great values on the board today, but I was able to find a few games that look good. Let's get into it.
[text-blocks id="137″ slug="email"]
Texas Rangers vs. Boston Red Sox Betting Tips:
I am loving the Red Sox today against Yovani Gallardo. He's not a great pitcher and hasn't been in a few years. He got dropped by the Reds already this year and in his four starts with the Rangers he's allowed 3+ in each one of them. Today he faces the Red Sox offense that kills right handers and kills at home. This is an easy one. Boston has a .820 OPS against righties which is by far the best in the league.
Hector Velazquez has a career 2.82 ERA/4.13 FIP and he's probably closer to the FIP than the ERA in talent level. They won't need much from him here. The Rangers have a .736 OPS against lefties this year so he should be able to keep them somewhat quiet.
The crux of this one is the offense and Gallardo and the fact that there is even a middling starter on the mound makes me happy. Lay the runs.
Bet Red Sox -1.5 (+110) at: [text-blocks id="87″ slug="bet-mlb"]
[text-blocks id="110″ slug="middle-ad"]
Cincinnati Reds vs. Cleveland Indians Betting Tips:
Hello, over.
Sal Romano is running a 5.40 ERA/5.18 FIP and today faces an Indians offense that has a .757 OPS/104 wRC+. The Indians home park is always friendly to hitters and I am not too worried about the wind blowing in a bit today. The Indians can hit him.
Trevor Bauer is having a great season, but he's been slightly worse at home with a 2.52 ERA/2.54 FIP/3.16 xFIP. I like him a lot, but the Reds offense is absolutely on fire right now. They have a .799 OPS in the past 30 days and a .733 OPS against right handed starters. They may not get to Bauer right away, but I think they can wear him down and get to the bullpen early.
The system has this game's projected total over 10 runs and it's only 8.5 here. A great Bauer game can probably kill that for us, but I am going against that. The Reds offense is great right now and the Indians will definitely put up runs.
Bet Reds/Indians Over 8.5 Runs at: [text-blocks id="87″ slug="bet-mlb"]
Los Angeles Dodgers vs. San Diego Padres Betting Tips:
I'm a forever Rich Hill guy. He's allowed two runs or less in four of his past five starts and has been playing a lot better than the numbers are showing right now. He faces a Padres offense that hits just .682 OPS against lefties with a 24.5% strikeout rate. The Padres park is very friendly to pitchers and I think it'll love Rich Hill today.
I'm not an Eric Lauer guy. He has a 4.84 ERA/4.73 FIP on the year with a high walk rate and low groundball rate. That's not the combo you want in a starter. The Dodgers have a .722 OPS against lefties this year which isn't great, but against Lauer it should be plenty.
Bet Dodgers -155 at: [text-blocks id="87″ slug="bet-mlb"]
[text-blocks id="418″ slug="best-sportsbooks"]
Follow @SBTSportBetting