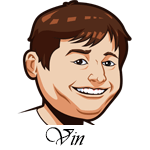 Follow @SBTSportBetting
A night after I thought the baseball gods were against us, they were on our side. We took the over in the Indians/Reds game and I warned that a good performance from Trevor Bauer could kill this one. Well, he threw eight innings, allowed zero runs and had 12 strikeouts. That was a pretty good game. The Indians were up 4-0 heading into the bottom of the ninth and our bet all, but shot.
Then crazy stuff happened. Adam Duvall hit a double that made it 4-3. An intentional walk, an unintentional walk and the bases were loaded and closer Cody Allen was pulled. Joey Votto at the plate and this game was over. Wow, it felt good to have lady luck back on our side.
We didn't need much luck for the Rangers/Red Sox. The Sox tagged Gallardo for five runs in the third inning and never really looked back. An easy cover.
There was also the Dodgers/Padres game that saw the Padres take a 4-0 lead before I went to bed.
The system really likes the over on the Rangers/Red Sox today, but I just can't see Chris Sale doing that. He's had six home starts this year and has only allowed more than two runs twice. Not gonna do it, not gonna be able to do it.
[text-blocks id="137″ slug="email"]
New York Yankees vs. Baltimore Orioles Betting Tips:
How far has Sonny Gray fallen? The Yankees are only a small favorite in this one against the Orioles. The 26-66 Baltimore Orioles. He burned me the last time out, but he has still been a much better pitcher on the road this year and the Orioles are a far worse offense than the Jays were last time out. The homeruns still scare me and I don't trust him, but I have to go with the data here.
He faces Dylan Bundy who has had his own struggles this year. He's been worse at home this year with a 4.18 ERA/4.81 FIP on the year. He's a predominantly flyball pitcher against the Yankees. How do you think that's going to work out? I don't care if Gray is pitching, I'm grabbing the Yankees at this low number.
Bet Yankees -142 at: [text-blocks id="87″ slug="bet-mlb"]
Cincinnati Reds vs. Cleveland Indians Betting Tips:
The system wants to go back to the well here and why not? The Reds offense is scorching right now. They have the 4th highest on base percentage against right handed pitchers and Carlos Carrasco has been significantly worse at home. He has a 5.48 ERA/4.36 FIP in home starts. The Reds are scorching right now and I think they can put up some numbers here.
Tyler Mahle goes for the Reds and while he has been solid, he has also been lucky. He has a 3.66 ERA/4.58 FIP. He actually has a lower FIP on the road, but the strikeouts are less and the walks are higher. I think that will come back to haunt him sooner or later. The Indians .757 OPS against righties is fifth in the majors and I trust neither of these bullpens. Going over.
Bet Reds/Indians Over 9 Runs at: [text-blocks id="87″ slug="bet-mlb"]
[text-blocks id="110″ slug="middle-ad"]
Milwaukee Brewers vs. Miami Marlins Betting Tips:
We've been to the well with Freddy Peralta a few times this season and had some great success. The kid has a 2.14 ERA/2.11 FIP/3.18 xFIP in six starts with over 12 K/9. There's a lot to like. Today, he faces a Marlins offense that has just a .695 OPS and strikes out 22.9% of the time. There's a lot to like.
Dan Straily goes for the Marlins and he has a 4.55 ERA/5.74 FIP. I should note that's with an artificially low .247 batting average on balls in play. The Brewers have a solid .738 OPS with a top ten isolated slugging percentage. They can make bad pitchers pay. Straily is a flyball pitcher against a team that hits homeruns. That's a good match-up.
Bet Brewers -166 at: [text-blocks id="87″ slug="bet-mlb"]
[text-blocks id="418″ slug="best-sportsbooks"]
Follow @SBTSportBetting