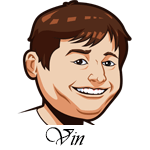 Follow @SBTSportBetting
A 0-1-1 record last night.
The Yankees/Indians over last night was just my second push of the season. Considering we've made nearly 300 bets this year, that's pretty rare. This might be a good time to point out that when I say over 9 runs, I mean over 9 runs. A jump to 9.5 is not what I'm playing and you are doing that at your own risk. This is how bankrolls are lost. "What's a half run?" A lot! This has been my PSA of the day.
The Dodgers fell behind early, but managed to tie it in the bottom of the ninth. A run by the Angels in the tenth though would settle it. A valiant effort, but not quite what we were looking for from them.
Today is the last day before the All-Star break. I'm excited to take a little break from the daily grind, but I'll also probably be putting up some futures stuff as well as a fun bet on the All-Star game. Just because. Hope everyone has a good one and we're looking forward to more big things in the second half. Let's get to today's tips.
[text-blocks id="137″ slug="email"]
Toronto Blue Jays vs. Boston Red Sox Betting Tips:
Marcus Stroman has been feast or famine on the road this season. In six road starts, he has three good ones and three with the 4+ runs allowed. Considering he's facing the #1 baseball against right handed pitchers today, I think I know which one we're getting.
Brian Johnson isn't the most impressive pitcher, but he's been getting it done. He usually goes about four innings and doesn't do much damage. Then the Red Sox bullpen takes over and does what they do.
This tip isn't about Johnson though. It's about J.D. Martinez and Mookie Betts and the rest of the offense taking Stroman to town. I think that happens here and Red Sox continue their hot streak.
Bet Red Sox -145 at: [text-blocks id="87″ slug="bet-mlb"]
Cincinnati Reds vs. St. Louis Cardinals Betting Tips:
This one is all about Miles Mikolas to me. He has a 2.65 ERA/3.21 FIP and just a 1.65 ERA at home this year. The Reds offense has been very dangerous of late, but I have to believe in Mikolas numbers. He was an All-Star candidate and this is a good chance to prove he was worth it.
I like the Cards offense against Anthony Descalfani as well. He's running a 4.43 ERA/5.65 FIP and that's with a crazy low BABIP. Bad days are ahead for him. Maybe today.
Plus, the Cardinals fired their manager today. Not really a scientific thing, but I always like to follow a team after they drop their manager. Seems to ignite something in the players.
Bet Cardinals -153 at:[text-blocks id="87″ slug="bet-mlb"]
[text-blocks id="110″ slug="middle-ad"]
New York Yankees vs. Cleveland Indians Betting Tips:
What's one more over? You know what I'm going to say here. Yankees offense great, Trevor Bauer good but not as good at home. Indians offense great at home, Masahiro Tanaka not as good on road. Indians park loves runs. These offenses can give us them.
Bet Indians/Yankees Over 9 Runs at: [text-blocks id="87″ slug="bet-mlb"]
Seattle Mariners vs. Colorado Rockies Betting Tips:
Mike Leake is what he is at this point and I'm not sure him starting at Coors Field scares me. He just has that veteran-ness that seems to get things done. The Rockies have been a major disappointment against righties this season with just an 82 wRC+.
I really like the Mariners offense against Tyler Anderson though. This is Coors Field and the Mariners have a 108 wRC+ against lefties on the year, fourth in baseball. Anderson has a 3.76 ERA/4.26 FIP and I rate these pitchers as basically even in Coors. That means you go with the offense and for me, that's Seattle.
Bet Mariners +135 at: [text-blocks id="87″ slug="bet-mlb"]
[text-blocks id="418″ slug="best-sportsbooks"]
Follow @SBTSportBetting