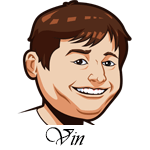 Follow @SBTSportBetting


[Get Exclusive Tips on our Patreon, Ad-Free
]
A 2-1 record last night.
What a crazy day. We had the Phillies over the Nationals with Vince Velasquez on the mound, expecting a big day. Instead, this happened:
.@vjvelasquezrhp got struck with a line drive on his right arm, so he made the play with his left.

He would leave the game, but not before getting the out. pic.twitter.com/V3xR4M7ult

— MLB (@MLB) June 30, 2018
Are you kidding me? Velasquez left the game and it looks like he might be out for awhile, but guess what? The Phillies still won!
We also had the Angels who won easily (poor Orioles) and the over on the Diamondbacks/Giants game. This was a weird one as the Giants offense has been terrible of late and the Diamondbacks have been hot. My big worry here was the Giants not showing up. Well they scored 7 runs of the 8.5 we needed to cover. Only problem is, the Diamondbacks got shut out. What really got me though was the Giants loading the bases in the 8th, but failing to add on to the score. Tough loss there.
Still, what an amazing run to end the month of June. 16-4 since the 24th. 37-21 since I debuted my Ichi-bot system on the 11th. Incredible and we finished with a winning month. Let's keep it going in July. Please follow us on twitter and facebook, and I thank you for your support.
[text-blocks id="137″ slug="email"]
Milwaukee Brewers vs. Cincinnati Reds Betting Tips:
The sportsbooks are right to not give Freddy Peralta a ton of credit, but I think he probably deserves more than he is getting here. He has four major league starts and only allowed runs in one of them. He's had two 10+ strikeout games and has looked rather dominant in his young career. The Reds offense is much better since April, but still not so good that I am particularly scared of them.
I'm a bit worried about the heat's effects on the ball, but that goes both ways and I trust Peralta and the guys who come after him a hell of a lot more than I trust Matt Harvey. This just feels like a great spot to grab the Brewers and the line should be much higher as they are only the best team in the National League thus far this season.
Bet Brewers -129 at: [text-blocks id="87″ slug="bet-mlb"]
[text-blocks id="110″ slug="middle-ad"]
Houston Astros vs. Tampa Bay Rays Betting Tips:
We've been down this road before. Blake Snell is having a great season, but the Astros are the Astros. A .797 OPS/123 wRC+ against lefties this season and I think they hit him here. They faced off against him less than two weeks ago and I think that will be fresh enough in hitter's minds that they can do something with it. It's hard to keep a good offense down.
Charlie Morton is coming off a monster 13-strikeout performance and also faced this offense a little under two weeks ago. The difference? The Rays aren't the Astros. They have a .695 OPS/96 wRC+ against righties this year. Again, this is a pretty good match-up but the line should simply be higher. The Astros are historically great. The Astros are borderline Wild Card contenders. Be for real.
Bet Astros -132 at: [text-blocks id="87″ slug="bet-mlb"]
San Francisco Giants vs. Arizona Diamondbacks Betting Tips:
There were a couple games I was looking at here, but the D-Backs stick out as my favorite. You just can't keep a good offense down and despite the shutout yesterday, I am expecting some big things.
Derek Holland has a 3.94 ERA/5.19 FIP on the road this season and a 4.24 ERA/4.26 FIP overall. He is more of a flyball pitcher and that can be dangerous in Arizona. The Diamondbacks have hit lefties well all season with a .765 OPS/105 wRC+. Even with last night's shutout, they are one of the hottest offenses in the game over the past month.
Arizona sends Zack Godley to the mound and while his 4.58 ERA/4.58 FIP (don't see that too often) isn't all that impressive, he has had much better results at home with a 2.89 ERA/3.89 FIP. The Giants are right about league average against righties and as I mentioned earlier they have struggled of late. Great place to grab the home team at a good price.
Bet Diamondbacks -131 at: [text-blocks id="87″ slug="bet-mlb"]
[text-blocks id="418″ slug="best-sportsbooks"]
Follow @SBTSportBetting