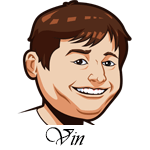 Follow @SBTSportBetting


[Get Exclusive Tips on our Patreon, Ad-Free
]
A 2-1 record last night that was oh so close to 3-0. Still, 14-3 since Sunday and we are still winning money. The system is +7.5 units since it's debut and everything is coming up BetMLB. Thanks to everyone for checking us out and if you'e won some money all that I ask is you help spread the word. Follow us on twitter and facebook, share with your friends. Spread the love. The more, the merrier
Our first two picks of the day were very easy wins for us. The Angels stomped on the Orioles 7-1 and the Yankees beat up on the Red Sox 8-1. This took us into the night game with a winning record locked in and one to play.
Arizona's Patrick Corbin did what I thought he would do, but the offense just wasn't there for him. The Giants won 2-1. Andrew Suarez threw six innings, but gave up seven hits and two walks. The opportunities were there, the Diamondbacks just weren't able to capitalize.
The weather is going to be really hot in most of the major leagues today so look out for the bats. I wouldn't be surprised to see a lot of these games go over and I'll be hiding from a couple of games because of it.
[text-blocks id="137″ slug="email"]
Los Angeles Angels vs. Baltimore Orioles Betting Tips:
I'm really not trying to just pick against the Orioles every day (although that would be pretty profitable thus far), but whenever they face a good lefty they are a great target. Tyler Skaggs is having a great season with a 2.69 ERA/3.13 FIP on the year and the Orioles don't hit lefties. He also has good strikeout numbers and the Orioles strike out a lot. Simple.
Andrew Cashner is having a tough season with a 4.70 ERA/5.10 FIP with high walks and a tough 1.5 HR/9. The Angels are beat up, but Mike Trout and Justin Upton are in the lineup and they can do damage. I think they will and this line shouldn't be this low.
Bet Angels -145 at: [text-blocks id="87″ slug="bet-mlb"]
[text-blocks id="110″ slug="middle-ad"]
Washington Nationals vs. Philadelphia Phillies Betting Tips:
Beware the game after the big game. Yesterday, the Nationals exploded for 17 runs. A lot of people think that's the time to ride them. I am not one of those people.
Jeremy Hellickson is coming off the disabled list for this one and you have to wonder what he's going to look like. Take a look at these stats:
2017: 5.43 ERA/5.77 FIP/1.92 HR/9
2018: 2.28 ERA/3.28 FIP/0.83 HR/9
He has improved his groundball rate quite a bit and is locating strikes better, but I just don't trust him. I remember that guy from last year too well. He had a really rough start in the minors on rehab and I just wonder if he'll be that same guy from the beginning of the season or whether he'll fall back into the habits he's had his whole career. I'm betting on the latter as I'm not sure he's ready.
I'm a fan of Vincent Velasquez and not just because he has a cool name. He is a major strikeout guy and his 4.69 ERA/3.86 FIP is decent. Even with the Nationals big performance yesterday they have still been one of the worst hitting teams over the past month. At this number, I have to go with the Phillies at home.
Bet Phillies -111 at: [text-blocks id="87″ slug="bet-mlb"]
San Francisco Giants vs. Arizona Diamondbacks Betting Tips:
I've been hesitant to bet any overs with the system of late, but this one is just too good to pass up. The system loves both of the offenses in this one and it's easy to see why. This game is going to be hot and humid with two pitchers who can get hurt out there.
Dereck Rodriguez has looked good as a rookie in his six games, but if you dig a little deeper it's easy to see why. He's faced the Marlins twice, the Phillies, Nationals and the Padres in his starts. Those are all below average offenses. The Nationals tagged him for five runs at home and I can see equal road struggles here. The Diamondbacks offense is hot right now and I think he has some more road rookie struggles.
Shelby Miller is making his second start off the DL and he had a rough one his first time out, lasting 3.2 innings and giving up five runs on six hits and two walks. He's an average-ish pitcher who projection systems having a high 4-FIP. I think there is the chance for struggles here and an early exit.
Bet Giants/Diamondbacks Over 8.5 Runs at: [text-blocks id="87″ slug="bet-mlb"]
Follow @SBTSportBetting