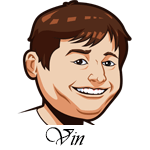 Follow @SBTSportBetting
A rough day yesterday.
The Brewers/Dodgers game went just as I thought it would. The Dodgers got to Chase Anderson early and sent him to the showers after just four innings. They had more hits than the Brewers and they had Clayton Kershaw on the mound. Things were looking good until the sixth inning when the Brewers tagged him for three runs and a 4-2 lead they would never look back from. Games like this happen. It's baseball.
Some days there is a game in the system that I ignore and that game wins. Then the next day I think "don't ignore the system, that game just one" when a game comes up that I don't 100% agree with. That was the Reds over the Pirates yesterday. Sorry for that one.
Dylan Covey had allowed four or more runs in five straight starts. So, of course, he threw nearly six innings of a no-hitter in a shutout on the road. These things happen.
The Rockies/Diamondbacks was an easy over for a win. Not really happy with yesterday's results, but not burning the whole thing down. These types of days happen in baseball. You just have to keep going and trust the data.
[text-blocks id="137″ slug="email"]
San Diego Padres vs. Philadelphia Phillies (Game 1) Betting Tips:
This one starts really early (12:05 eastern) and is the first half of a doubleheader which makes me like the under on it even more than I normally would've. I like the way that Tyson Ross has pitched this season overall. He had two really bad starts in the beginning of the month that skewed his stats, but overall he's allowed three runs or less in 15 of 19 starts. The Phillies have just a 93 wRC+ on the season and aren't a scary offense.
Nick Pivetta is having a great season for the Phillies with a 4.58 ERA/3.75 FIP and 10.5 K/9. He's going against one of the worst offenses in baseball at home.
This game has two good starters, is early, two weak offenses and is half of a doubleheader. I can't imagine a better under scenario.
Bet Padres/Phillies Under 8.5 Runs at:
Houston Astros vs. Los Angeles Angels Betting Tips:
Hello, Astros my old friends. I have a lot of respect for the season that Andrew Heaney is putting together. He has a 3.78 ERA/3.84 FIP and he's been a bright spot for the Angels this year. That said, he's facing the Astros. While his home/road splits benefit him here, this is the Astros. They are one of the top teams against lefties in the league and he's not impressive enough to scare me off of them.
The Astros send Lance McCullers Jr.and while the Angels are pretty good against righties, I think he'll do enough to get the job done here. Even if these two play to a draw, I trust the Astros bullpen a heck of a lot more than the Angels.
This is a great number to get the Astros at and you almost never see them here. Grab it.
Bet Astros -121 at: [text-blocks id="87″ slug="bet-mlb"]
[text-blocks id="110″ slug="middle-ad"]
Colorado Rockies vs. Arizona Diamondbacks Betting Tips:
The system likes the over here again and I have to agree with them. While I love Zack Greinke, I don't love his match-up as the Rockies offense has been scorching of late.
The Rox send Antonio Senzaleta to the mound and I really like the D-backs to hit him as well. He got rocked by the Mariners his last time out and he doesn't have the kind of stuff that scares me. If this game was 8 or 8.5, I would probably ignore it, but at 7.5? Gimme that over.
Bet Rockies/Diamondbacks over 8.5 runs at: [text-blocks id="87″ slug="bet-mlb"]
[text-blocks id="418″ slug="best-sportsbooks"]
Follow @SBTSportBetting