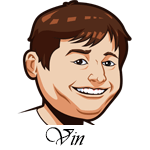 Follow @SBTSportBetting
Last night was a rough one.
Corey Kluber, one of the best pitchers in the game, got rocked by the Pirates. I don't even know how to explain that one. The second inning did him in as his team had two errors that led to four unearned runs scoring. It also didn't help him that they start the game and then had a 27-minute rain delay. Games like this happen to the best in the game. He'll be back.
The game that really got to me was the Royals and Tigers. The Royals led this whole game and I was feeling pretty good about picking such a bad team. Then, the 9th inning happened. Three unanswered wins and a blown save for Brandon Maurer (who didn't even record an out) lost this one. That sucked.
Later, the Angels lost to the White Sox. The Angels offense always gives me pause and with the 1-2 hitters going a combined 1-for-10, the Sox were able to walk Mike Trout four times and avoid him. Maybe don't have Kole Calhoun lead off?
We need a win right now and the system is giving us some good ones.
[text-blocks id="137″ slug="email"]
Minnesota Twins vs. Toronto Blue Jays Betting Tips:
Jose Berrios is having a great year, but he is bad on the road. A 4.78 ERA/6.20 FIP in road starts this season. The Blue Jays offense has a 101 wRC+ against righties on the year and this is a good match-up for them.
I don't know much about Ryan Borucki, but he has been getting it done. A 3.52 ERA/2.64 FIP in four starts and even when I adjust for some regression for him, the system still likes this game quite a bit for Toronto. The Twins are pretty bad against lefties on the year with just a 87 wRC+ and the Jays offense is far better than Toronto. A nice value here.
Bet Jays -108 at: [text-blocks id="87″ slug="bet-mlb"]
[text-blocks id="110″ slug="middle-ad"]
Baltimore Orioles vs. Boston Red Sox Betting Tips:
You know the story here. One of the best hitting teams against right handed pitchers going against Yefry Ramirez. He's having a good year with a 3.09 ERA/3.63 FIP, but every projection system shows him having a 5-ish ERA the rest of the way out. The Red Sox are the kind of offense that can help him get there.
The Orioles offense has been horrible all season and now they don't have Manny Machado. I was truly surprised to see the line so low on this one. Where is the offense coming from? Drew Pomeranz goes for the Red Sox in his return from the DL. He's had some rough starts early, but this is a nice match-up for him (or anyone, really) and I like the Red Sox at this price.
Bet Red Sox -143 at: [text-blocks id="87″ slug="bet-mlb"]
Houston Astros vs. Colorado Rockies Betting Tips:
Need a win? Go for the Astros. Gerrit Cole is going for them tonight and while he's starting at Coors Field, I still like him quite a bit in this match-up. The Rockies have been disappointing against righties all season and Cole has big time strikeout stuff which takes Coors out of the equation.
The juice of this match-up is the Astros against a left handed starter though. The Astros are one of the top teams in baseball against lefties with a 121 wRC+. Tyler Anderson is decent at 3.72 ERA/4.14 FIP, but his walk rate is high and I think the Astros hit him today. These teams are on different levels and I'm surprised to see this line so low.
Bet Astros -145 at: [text-blocks id="87″ slug="bet-mlb"]
[text-blocks id="418″ slug="best-sportsbooks"]
Follow @SBTSportBetting