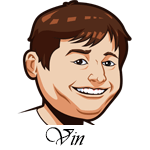 Follow @SBTSportBetting
A 1-2 record yesterday.
The Pirates magic that carried them to an 11-game winning streak died yesterday as they were shutout by the Indians' Trevor Bauer. This was no good for us as we had the over in that one.
The Astros only managed one hit in their game at Coors Field against the Rockies and still nearly won this game. It was 2-2 in the ninth and they were unable to score (probably because they had one hit all game) and the Rockies were able to walk it off. Jon Gray is most definitely back, but I would take this bet again if I could. You aren't going to one-hit the Astros every night.
The Angels won big to cover the spread as Mike Trout hit two homeruns in a huge win over the White Sox.
Since overs have been so popular of late I'll say that I really like the Yankees/Royals over. The system sees it, but not quite at the threshold that I like for my tips. Sonny Gray at home and Jakob Junis in Yankee Stadium is juicy to me though and I just thought I'd throw it out there for you over fans.
[text-blocks id="137″ slug="email"]
Minnesota Twins vs. Boston Red Sox Betting Tips:
This one depends on what you think about Kyle Gibson. Is he a 30-year old who finally figured it out and his 3.57 ERA/3.85 FIP is for real? Or is he closer to the guy with the 5.07 ERA/4.85 FIP last season and the career 4.54 ERA/4.28 FIP? I know what I think and that's why I'm taking the Red Sox today. Boston kills righties and he's running a slightly low BABIP. I think they hit him as they always play well at home.
I don't expect Brian Johnson to go deep into this one, but I don't expect the Twins to do much against him either. They are not a good offense against lefties with just a 87 wRC+ against lefties on the year. He might only go four, but four shutout innings is a good start. The Red Sox offense should do the rest.
Bet the Red Sox -157 at:[text-blocks id="87″ slug="bet-mlb"]
Oakland Athletics vs. Texas Rangers Betting Tips:
The total on this one is sky high and that definitely has me leaning towards Oakland in this one. They are a really dangerous offense that is climbing the standings every day. As a Mariners fan, I'm scared.
I like Trevor Cahill in this one. He's probably not as good as his 2.95 ERA/3.36 FIP, but he has been getting it done this year. The Rangers offense has a 91 wRC+ against righties this year.
The thing that gets me pumped up about this one though is the Oakland offense. They have a 107 wRC+ against righties on the year and face Bartolo Colon who has a 4.85 ERA/5.11 FIP with a 1.78 HR/9. He will give up a dinger to this Oakland offense and possibly more than one. The Oakland offense has been great this year and I just trust them more all around right now. I can't believe how low this line is and I am jumping on it.
Bet Oakland -131 at: [text-blocks id="87″ slug="bet-mlb"]
Follow @SBTSportBetting