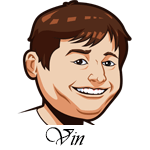 Follow @SBTSportBetting
A 1-1 record last night.
The Athletics lived up to the billing as they played a slugfest and they won a slugfest. This played out about how I expected although I would've liked for them to have a bit more of a cushion heading into the late innings.
Boston let us down again as they only managed one run against the Twins. Brian Johnson exceeded my expectations in this one and the Twins only managed two runs. You'd expect to the Red Sox offense to do the rest, they didn't.
As I've done previous times this season, I am taking this loss as an opportunity to learn and have added a "Last 14 games wRC+" component to the system. The Red Sox have a 92 wRC+ over their past 14 games which is a far cry from their 112 wRC+ on the year. I'm not putting a huge emphasis on it, but it would've been enough to have me reconsider as their number would not be as impressive. We'll test it for the weekend and see how it goes.
Tonight is a weird one as there are a lot of HUGE favorites on the board. The system loves the Red Sox with Sale on the mound, but laying the -1.5 is -184! That's crazy big. There are two totals that I'll be skipping that the system likes.
Red Sox/Twins Over 8.5: I'm not betting on Chris Sale giving up runs in this one.
Rangers/Astros Under 8.5: Jose Altuve is questionable and Carlos Correa is still out, but it's still Yovani Gallardo on the mound.
Now, the tips that I will be making.
[text-blocks id="137″ slug="email"]
New York Mets vs. Pittsburgh Pirates Betting Tips:
The Pirates have been one of the hottest teams in the league over the past couple weeks, but even without that hot streak I would be on them here. They draw a great match-up here against Jason Vargas who has really struggled in his time with the Mets. He's returning from the DL for this one, but in his nine starts this year he has a 8.60 ERA/6.61 FIP/5.08 xFIP. He's struggled on the road for most of his career and the Pirates are hitting well right now.
Ivan Nova isn't the greatest pitcher, but the Mets aren't the greatest offense either. He has a 3.39 FIP at home this year and I think he'll do enough to get the Pirates the win here today.
Bet Pirates -150 at: [text-blocks id="87″ slug="bet-mlb"]
Tampa Bay Rays vs. Baltimore Orioles Betting Tips:
Is this an audition for Chris Archer? He's coming off an awesome 13 strikeout performance and has reportedly been the subject of many trade rumors. A great performance here and he could find himself in a pennant race. The Orioles are a great match-up for him as they strike out 24.5% of the time against righties with just a 83 wRC+.
While the Rays have made quite a few trades, their offense is intact and they have been hitting the ball really well as of late. I am not a fan of Andrew Cashner whatsoever and I think that the Rays should hit him well tonight.
Bet Rays -150 at: [text-blocks id="87″ slug="bet-mlb"]
Philadelphia Phillies vs. Cincinnati Reds Betting Tips:
Anthony DeScalfani is not good. He has a 5.40 ERA/6.23 FIP on the season with a whopping 2.61 HR/9. The Phillies offense is middle of the road, but they have hit the ball really well of late with a 108 wRC+ in their last 14.
Nick Pivetta is having a heck of a season with a 4.69 ERA/3.56 FIP. He's had his struggles on the road, but nothing as bad as DeScalfani's struggles overall. The Reds have just a 92 wRC+ over the past 14.
In games like this, how do you not take the first place team over the last place team with the better starter? This line makes no sense to me.
Bet Phillies -111 at: [text-blocks id="87″ slug="bet-mlb"]
Follow @SBTSportBetting