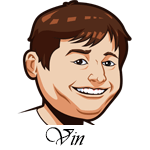 Follow @SBTSportBetting
I've been harping on the trade deadline for two weeks and we have yet to see a big move. I feel like it's coming, some of these players will never have a higher value than they do right now, and when it does there will be many words written and the landscape will change. For instance, the AL East is probably the most wide open division in baseball right now. What if the Red Sox get Chris Sale? Things would suddenly seem a lot less wide open after that. They'd have to hide their scissors, but they would be a much better team and could run away with the division. The same can be said about the Blue Jays who have been good, but not quite as scary as they were last year around this time. There is a lot of time left in the season so we're still going to see some big changes to the landscape, but the time to make moves uninhibited is winding down.
It's kind of a short slate in the MLB today as Thursday is a typical travel day. There is still some nice games out there including the aforementioned Chris Sale facing the Cubs in Wrigley Field. That should be a good game as the Cubs are looking to finally turn the corner after a rough month of July. We also have the Red Sox ace David Price heading to LA to face the Angels. It should be a good night so let's get right into today's tips.
MLB Betting Tips:
Jose Fernandez has been amazing thus far this season for the Marlins, but the thing about him is that he rarely hits the the seventh inning. He's averaging a little over 6 1/3 innings per start and the Cardinals hope it's going to be on the low end of that. He goes against Michael Wacha who is definitely hittable for the Marlins. The Cardinals have one of the more underrated offenses in baseball so if they don't get to Fernandez I have to believe they'll get him out early and hit the bullpen. The total on this one is low and I think it's going to go over 7 runs.
On the opposite end of the spectrum, we have the Red Sox facing the Angels. Jered Weaver goes for the Angels and with his soft tosses and 5.32 ERA is the exactly the kind of pitcher that Boston is likely to destroy. David Price is a great pitcher, but he's not having a great season with a 4.51 ERA on the year. His 4.77 ERA on the road isn't much better. He gets a nice matchup today, but I think this game is going to be a high scoring one. Over 8.5 runs feels like an easy play.
The big match-up tonight is the Cubs and White Sox finishing up their season series. The Cubs -129 are a slight favorite here despite the start coming from Chris Sale. It's really hard to know what we'll see from Sale today as he could be traded, he's in a fight with his organization and is in the spotlight in a very negative way right now. There will be many eyes on him tonight and he gets one of the toughest matchups in baseball for his trouble. I love him as a pitcher, but I don't love him today. Lackey should do a nice job shutting down the Sox and the Cubs should get to Sale just enough to grab a win.
Notable Upcoming Bets:
CFL Betting Tips:
We've done well going against the Winnipeg Blue Bombers over the past couple of weeks and they're in action again today on the road against the Edmonton Eskimos. While we'd normally be licking our lips at a match-up like this there is a couple of different factors. First of all, the line is set quite high and secondly the Blue Bombers have finally made the switch and Nichols will be their starting QB today. I am not quite sure that's enough for them to grab a win, but I think it will be enough of a spark for them to play this one closely. Bombers +10 is the play here as Nichols should be an upgrade for them.
Follow @SBTSportBetting