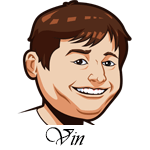 Follow @SBTSportBetting
A 2-0 record on yesterday's tips so I hope you all made some money last night.
Today is the MLB trade deadline and the big rumor is where Bryce Harper might go. I mentioned yesterday how good of a fit he looked to be with the Astros, but it also appears the Indians are in on him. He'd be a huge upgrade to that offense and would help them compete with the Yankees, Red Sox and Astros in October. It just feels like a mortal lock that Bryce Harper will have a huge run after he is traded. He's been really unlucky on his batting average on balls in play this year so you have to think that will come back around for him and he'll just be motivated to perform.
The Nationals are going nowhere this season so they need to make this move. They can make a run at Bryce Harper in free agency, but trading him should not be considered giving up on that. We see it all the time in MLB free agency. If you pay him enough money, he'll come back. If you don't, he probably wasn't coming back anyway. Trade him, get some stuff and bring him back to play with the new guys. It's just that easy.
Notable Upcoming Bets:
MLB Betting Tips:
The Angels' Tyler Skaggs has been a huge success story this season with an ERA of 2.62 on the season. He's been pretty dominant in his starts and tonight he faces the Rays in Tampa. They are a pretty good offense, but nothing that really scares me from a betting perspective. The Angels, on the other hand, should be scaring everyone as they are absolutely on fire with the bats of late. The Rays will be doing a bullpen game here and with their bullpen depleted by trades, I don't love that for them. I think the Angels -126 are a great value here.
My favorite match-up of the day might be the Indians -150 against the Twins. Trevor Bauer is going for the Twins and he's been a strikeout machine with nearly 12 strikeouts per nine innings. The Twins offense took a big loss with the trade of Eduardo Escobar and I wouldn't be surprised to see them move Brian Dozier today as well. This offense is just depleted and I don't think they have much of a chance against Bauer today.
One of the lowkey better offenses in baseball this year is the Cincinnati Reds. Joey Votto, Eugenio Suarez and Jose Peraza are making up a tough little offense and they have hit lefties very well this year. That works out well for them today as they face Matt Boyd who has been hit very hard at times this season. Even better, the Reds will send Homer Bailey, who is not great, but he is facing a Tigers offense that is absolutely terrible. They rank dead last against right handed pitchers in hitting and I think they'll make Homer Bailey look like his old self here. I love the Reds +100 here.
Follow @SBTSportBetting