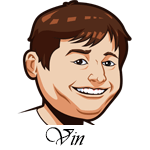 Follow @SBTSportBetting
A 1-1 record last night.
Not sure how I did it, but I managed to pick two games that went into extra innings last night. The results were what you'd expect when that happens, a coin flip.
The Brewers would not lose this game. They fell behind 5-1, they added another three. Then in the ninth they tied it up before Brad Miller had a walk-off walk in the tenth. This is why you pick good teams against bad teams.
The Rays were down the whole game, but managed to tie it in the top of the ninth. The homefield disadvantage got to them though as they weren't able to score in the tenth and the Marlins won it. Comme Ci, Comme Ça.
This is a weird day with a lot of big favorites on the board and some high totals. I had to really dig deep in this slate to pick some games today.
I'll be going to the Brewers-Twins today so I'll be looking over there, but am not going to tip that. Just a little fun for the game.
[text-blocks id="137″ slug="email"]
Boston Red Sox vs. Washington Nationals Betting Tips:
I like the value on this one. The line is basically the sportsbooks throwing their hands up in the air and telling us to pick. It's sort of easy to see why, but I still like the Sox here.
Brian Johnson starts for the Red Sox and the Nationals have fared really poorly against lefites. The problem is that Johnson is yet to last deep into a game. He has two starts that lasted four innings which is the deepest he's made it. That's a lot of bullpen arms to rely on, the good thing is that the Red Sox bullpen is great.
Tanner Roark starts for the Nationals and he's not that impressive to me. He has a 4.10 ERA/4.43 FIP and the Red Sox offense is great against right handed pitchers. Their .805 OPS against righties is the best in baseball.
When it comes to a bad offense and an average starter against an average starter and a great offense, I'm taking the great offense every time.
Bet Red Sox -110 at: [text-blocks id="87″ slug="bet-mlb"]
Atlanta Braves vs. New York Yankees Betting Tips:
This is one of those games that would look really weird to you if you just looked at certain stats.
Sean Newcomb is having a great year with a 2.71 ERA/3.44 FIP/3.94 xFIP, but he has been lucky as that line says. He has a really low BABIP at .261 and his HR/FB rate is a bit low. Both of those numbers could swing back against him today against the Yankees. They are great at home and they are great against lefties with a .824 OPS on the year.
Domingo German is the complete opposite pitcher in terms of luck. He has a 5.32 ERA/4.17 FIP/3.57 xFIP. He's been killed by a high HR/FB rate and a low left on base percentage. He gets strikeouts at an elite rate and is far better at home. The Braves have just a .729 OPS against righties this year and I'm expecting good things here.
You could easily lay the -170 to bet the Yankees here, but I think the match-up is more lopsided than that and will be laying the runs.
Bet Yankees -1.5 (+105) at: [text-blocks id="87″ slug="bet-mlb"]
[text-blocks id="110″ slug="middle-ad"]
These next two I don't feel as strongly about, but the system came out pretty far in each direction and what's the import of having a system if you don't trust it?
San Diego Padres vs. Oakland Athletics Betting Tips:
Where is the offense coming from here? Chris Bassitt has been great (if a bit lucky) with a 2.82 ERA/3.42 FIP on the year. The Padres have just a .656 OPS/81 wRC+ which is right near the very bottom of the league.
The Athletics have struggled against lefties this year with just a .697 OPS/92 wRC+. Clayton Richard has an insane groundball rate which always helps slow an offense. He has 4.29 ERA/3.88 FIP on the year and the Oakland Coliseum is friendly to pitchers. I expect it to be on both sides today and am taking the under here.
Bet Athletics/Padres Under 8.5 Runs at:
Arizona Diamondbacks vs. St. Louis Cardinals Betting Tips:
Jack Flaherty has a 2.92 ERA/3.76 FIP on the year, but I think things are swinging the other way for him. He just got tagged for four runs by the Indians and I think today could be rough for him as well. He is running a really low BABIP with a high left on base percentage. That will come back to haunt him. The Diamondbacks numbers against righties as a whole aren't great this year, but over the last 30 days they have been one of the top offenses in the game. Getting AJ Pollock back will surely help as well.
Zack Greinke is a great pitcher, but he's not infallible. The Cardinals tagged him for five runs back in April and I could see them scoring a few here.
This just feels too low. 8? Eight would be great. 8.5, would make a lot of sense to me as well, but at 7.5 I'm taking the over.
Bet Diamondbacks/Cardinals over 7.5 runs at: [text-blocks id="87″ slug="bet-mlb"]
[text-blocks id="418″ slug="best-sportsbooks"]
Follow @SBTSportBetting