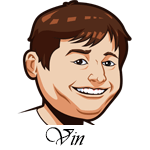 A 1-0 record thus far yesterday. We also had another pick in La Liga that takes place later today.
It was nice to wake up to a win in NPB. We laid the runs for the Giants over the Chunichi Dragons and they won easily, 5-0. Yudai Ono actually had a great start, but the bullpen did him in as they allowed four runs in just two innings. Tomoyuki Sagano pitched an absolute gem as he threw 11 strikeouts and allowed just one hit in a complete game shutout.
The NFL is making moves to get their season started on schedule including telling players that they could be fined for conduct detrimental if they are found to have engaged in "reckless" behavior away from the team facility, such as eating out in restaurants and using ride-sharing services. That seems like a slippery slope to me, but that's up to the player's union to sort out. Of all the sports, football seems the most insane to play in the age of coronavirus considering the rosters are 52-people. It's one thing to try and keep 2-30 people safe, it's quite another to have 100+ for each game. Time will tell.
A 4th of July weekend without baseball just feels wrong. We have some NPB going on late tonight that I'll tip below, but no MLB is wild. Instead of watching fireworks, I'll just re-read my MLB Win Totals post again and dream of later this month.
Notable Upcoming Bets:
EPL Betting Tips:
This match takes place on July 4th.
Norwich City vs. Brighton: Brighton had been on a strong run before getting thumped by Manchester City last time out. They'll look to get back on the winning path here against Norwich City. Norwich is looking towards relegation without much hope of avoiding it. They have lost every game since the resumption of the season and have actually failed to score in any of them. Norwich is home here, but that really doesn't matter all that much in this climate of no fans and I think they are going to continue their losing ways here.
Brighton definitely wants to avoid the bottom-three and relegation so they should be highly motivated to get back on the winning track here. This is an important game and I consider it a must-win.
NPB Betting Tips:
Chiba Lotte Marines at Tohoku Rakuten Golden Eagles: This is definitely the game of the day with two teams at 9-4. I think this is going to be a tight match-up with both pitchers looking like good books. Atsuki Taneichi of the Marines has followed up last season's 3.24 ERA with a 1.38 ERA in his first two starts. He goes against a pitcher fourteen years older than him in Takayuki Kishi who has a 3.02 ERA for his career.
This seems like a game with both teams fighting for runs and playing small ball. That means a low total to me and I am going under here.
Bet Mariners/Golden Eagles Under 8.5 (-115)
Chunichi Dragons at Yomiuri Giants: This is a similar story as yesterday as Kazuki Yoshimi goes for the Dragons and he has been hit hard early. He's allowed three homeruns in just nine innings thus far and now faces one of the best offenses in the league. I don't see that going well for him. While Taguchi has looked solid in his two starts this year. Laying the runs and looking for a repeat of yesterday.
Hanshin Tigers at Hiroshima Toyo Carp: Daichi Ohsera has been one of the most dominating pitchers early in the season. He's pitched two games, both complete games, and allowed just two runs on the season. He faces a Tigers team here that has really struggled with just two wins on the season. I think Ohsera will continue his dominance here and the Carp win big.