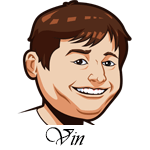 Follow @SBTSportBetting
A 3-1 record last night.
The Athletics/Padres game had that one inning that had a bit more than I was expecting, but other than that it went under the total of 8.5. I saw that this line went down to 8 later in the day so some of you might have gotten a push on that one. As always, I recommend checking out our MLB Live Odds page to line shop if needed.
The Red Sox really did a number on the Nationals and it didn't matter that Brian Johnson only lasted 4.2 innings. J.D. Martinez hit a bomb and this one was really never in question.
While the Yankees had a six run lead at one point, they let the Braves back in the game and needed two in the eighth to cover the spread for us.
Our lone loss was the over on the Diamondbacks/Cardinals. There were a lot of chances for this one to go over, but none of them hurt more than this one:
The most hated man in the ballpark….?Fan interference robs Jake Lamb. pic.twitter.com/XoVn5ky1nV

— FOX Sports Arizona (@FOXSPORTSAZ) July 4, 2018
I'm not saying they would've went over without this adult with a glove on, but I think they definitely would've scored one more here and who knows after that. Pay attention!
It's the 4th of July in the U-S-A so lots of early games today.
[text-blocks id="137″ slug="email"]
Houston Astros vs. Texas Rangers Betting Tips:
Remember when this was a rivalry game? Not so much anymore as these teams have gone in opposite directions and that disparity should be on full display here today.
The weather is going to be Texas hot and humid which is a bump to the bats. I think that is absolutely terrible for the Rangers as they send Mike Minor to the mound with a 4.64 ERA/4.18 FIP on the year. The Astros have a .781 OPS/118 wRC+ against lefties this year and we could see some fireworks from them today.
Gerrit Cole gets the start for the Astros and while the weather is a worry, the Rangers offense really isn't as much with a .741 OPS against righties. Cole has an awesome 2.50 ERA/2.99 FIP with over 12 strikeouts per game. The Rangers strikeout nearly 23% of the time and I think this game plays great to his strengths.
This line is low enough for me to take it at the moneyline, but I would lay the runs if I needed to.
Bet Astros -166 at: [text-blocks id="87″ slug="bet-mlb"]
Milwaukee Brewers vs. Minnesota Twins Betting Tips:
I'm looking for the runs I didn't see yesterday here. Jose Berrios is having a nice season, but he's coming off a game where he allowed six runs to the Cubs and he could have a tough time again here. The Brewers have some guys who can hit him and a ton of people who I think are just on the verge of breaking out. Check out Ryan Braun's BABIP numbers some time and you'll see what I mean.
Chase Anderson is a starter I just don't trust. He has a 4.18 ERA/5.46 FIP on the year and with Josh Hader throwing three innings yesterday, I don't see the shutdown bullpen coming out today. This could be a run fest.
Bet Brewers/Twins Over 8.5 Runs at: [text-blocks id="87″ slug="bet-mlb"]
[text-blocks id="110″ slug="middle-ad"]
New York Mets vs. Toronto Blue Jays Betting Tips:
Sorry, America, you're going to lose today.
The Jays send Marcus Stroman to the mound in this one. He's only made nine starts this year as he's just coming off the DL. He has a 6.02 ERA/4.18 FIP/3.63 xFIP so he's due for some positive regression. His last start was seven innings with just two earned runs and I love him against this mediocre Mets offense. They have a .719 OPS against righties this year.
Corey Oswalt has just not been good this year. He's only appeared in two games and he's bled runs. He had an ERA over 5 in the Triple-A this season. The Jays .736 OPS against righties is due for a boost here against the Mets.
Bet Jays -1.5 (+110) at: [text-blocks id="87″ slug="bet-mlb"]
San Francisco Giants vs. Colorado Rockies Betting Tips:
So, let me get this straight: on Monday the Giants had Madison Bumgarner on the mound, one of the best pitchers of this generation, and the total was 11.5. Today, they have a rookie with shaky road numbers on the mound and the total is 10.5. Umm, okay?
The totals have been low on this series the whole time and I don't think Coors Field is going to allow that to go on much longer. It's the 4th of July, let's see some fireworks.
Bet Rockies/Giants Over 10.5 at: [text-blocks id="87″ slug="bet-mlb"]
Follow @SBTSportBetting