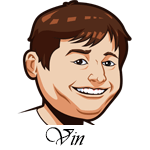 Follow @SBTSportBetting
A tough 1-3 yesterday. I was definitely playing a bit too fast and loose with the overs there. The system had my games as going slightly over, but not quite the threshold that I usually look for. I figured with the humid weather all around and the amount of overs we've been seeing lately that those would be sure things, I was wrong. I'm going back to where my bread is buttered today and sticking with moneylines wherever possible.
Our day was saved by the Astros who are a team you just can't keep down. They were down 4-0 early and still managed to come back and win. That moneyline was a bit high, but whenever you can get them at a decent price you should probably take it. They are that good.
That Mets/Jays game really got me. The five-run fifth by the Mets killed that one. I understand the Todd Frazier homerun, but giving up another three with two outs in the inning just hurts.
The overs weren't all that close and the less said the better. On to the next ones!
[text-blocks id="137″ slug="email"]
Baltimore Orioles vs. Minnesota Twins Betting Tips:
This is a bit of a stretch since there isn't a big sample size on Aaron Slegers, but I think I like him here. He's had a 3.55 ERA/4.69 FIP/4.28 xFIP in Triple-A this year and generally keeps the ball down. The strikeout rates aren't quite there, but he's facing the Orioles who are one of the worst hitting teams in the game. They have a .673 OPS/82 wRC+ and I just think they are being overpriced here. They're the Orioles.
Baltimore sends Andrew Cashner who has been decent for the Orioles all things considered, but on the road he has struggled. Hitters are hitting .319/.395/.556 against him in road games and the Twins offense has been much better at home this year. This is all about home/road splits and the Twins look good here.
Bet Twins -127 at: [text-blocks id="87″ slug="bet-mlb"]
San Diego Padres vs. Arizona Diamondbacks Betting Tips:
A similar home/road story here here as Eric Lauer starts for the Padres. While his FIP is a bit lower on the road, he also walks nearly five per game away from home. The Diamondbacks offense has been much better against lefties this season with .766 OPS/105 wRC+ on the season.
Backing Shelby Miller is a bit of a risk after his last start, but the Padres offense is hitting for just a .657 OPS against righties which is the second worst in the league.
Bet Diamondbacks -145 at: [text-blocks id="87″ slug="bet-mlb"]
[text-blocks id="110″ slug="middle-ad"]
Los Angeles Angels vs. Seattle Mariners Betting Tips:
Outside of the Astros (which is way too expensive), this is the system's favorite game of the day. It's pretty much the same story as the other games.
Jaime Barria is having a nice rookie season at just 21 years old, but the road has not been his friend. He has a 3.40 ERA/4.81 FIP on the season, but that number jumps to 3.16 ERA/6.14 FIP on the road. He has a 99.1% left on base percentage on the road which is pretty much impossible. That will come back to bite him.
Marco Gonzales is having a great season with a 3.77 ERA/3.41 FIP. He's even better at home with a 3.06 ERA/2.44 FIP. The Angels offense has been significantly worse against lefties than righties this season with just a .687 OPS.
Bet Mariners -126 at: [text-blocks id="87″ slug="bet-mlb"]
[text-blocks id="418″ slug="best-sportsbooks"]
Follow @SBTSportBetting